15 Must-See Attractions Near Me in the USA
There are so many amazing places to see in the United States, it can be hard to know where to start. Whether you are looking for natural beauty, cultural diversity or simply to relax and have fun with the family, there is surely an attraction nearby that will suit your needs.
From historical showstoppers to natural wonders, you'll find something for everyone on this list.
So, if you've spent hours and hours online searching for "top attractions near me," check out our list of 15 must-see sites below!
1. The Grand Canyon
Arizona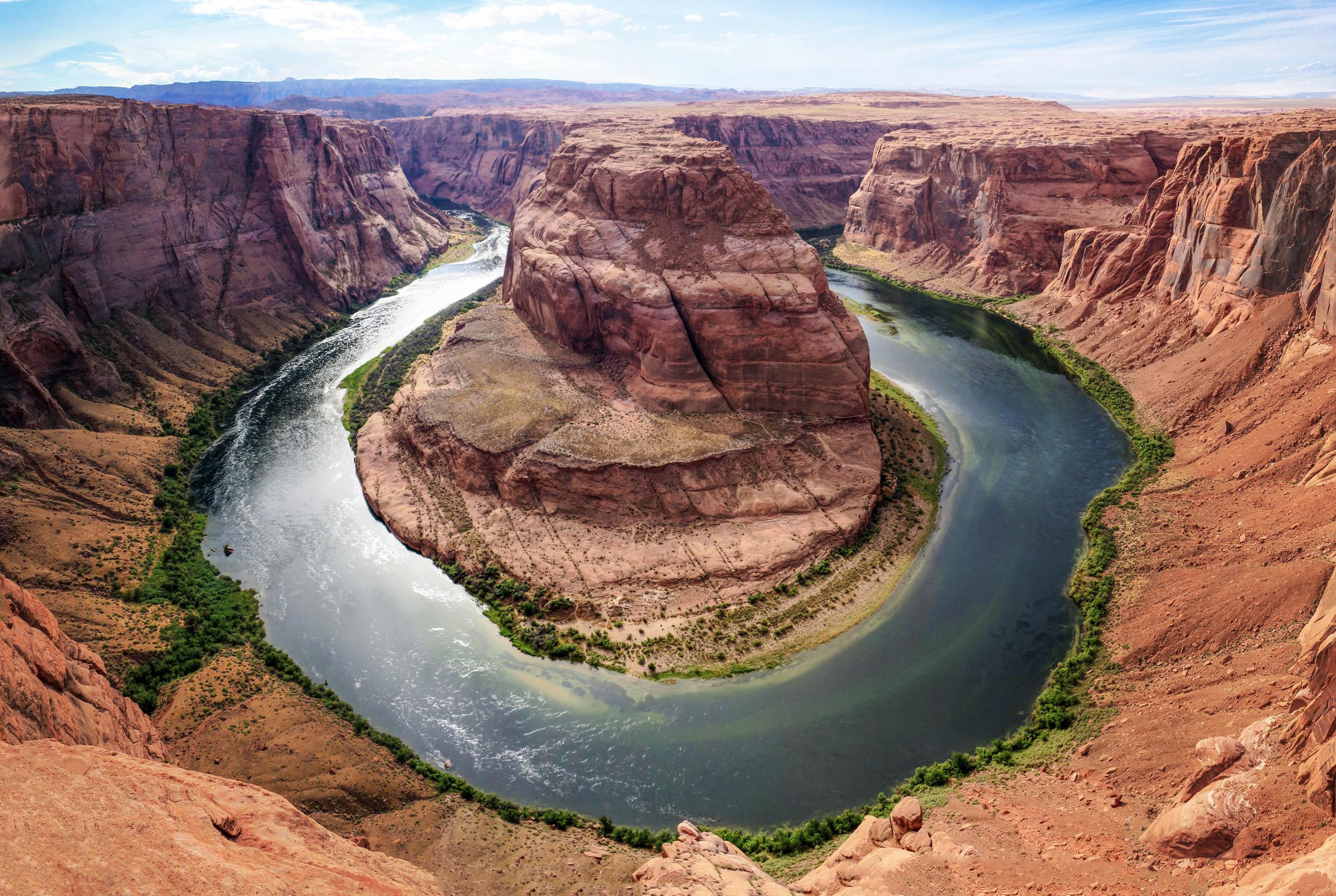 This stunning natural wonder is a must-see for anyone from or visiting the USA. With its dramatic cliffs and awe-inspiring views, the Grand Canyon National Park is one of the most popular tourist destinations in the country.
It's a must-see because there's nothing else quite like it. You'll love the stretching blue skies and the red-layered rock formations, not to mention the breathtaking panoramic landscape.
Be sure to bring your camera to capture the stunning sights and show your friends!
There is so much to see and do at the Grand Canyon! You can hike along the trails, go on a mule ride, take a rafting trip, or simply relax and take in the stunning views.
There are plenty of places to park and take in the canyon. There's a large visitor center at the South Rim and countless lookout areas around the North Rim.
Plus, you can stop at any of the viewing points along the way and check out the different perspectives of the park.
If you're feeling adventurous, you can even take a stroll on the Grand Canyon Skywalk at Eagle Point.
The Skywalk is a horseshoe-shaped bridge with a glass walkway suspended high in the air at the edge of the canyon. Talk about a walk on the wild side!
2. The Statue of Liberty
New York
This world-famous statue is a symbol of freedom and democracy and is another one of the most popular tourist attractions in the US. The statue itself is massive and proudly stands in the New York Harbor, quite impressive for all to see.
In fact, it can be seen from miles away. It was designed by French sculptor Frederic Auguste Bartholdi and completed in 1886.
The Statue of Liberty is the largest green-patina statue in the world, standing at 151 feet tall from ground level to the torches tip.
Her surface, including the pedestal she stands on, measures 305 by 151 feet. She weighs 225 tons. You won't want to miss seeing Lady Liberty.
Visitors can take a ferry ride to Liberty Island to get up close with the iconic lady.
Tickets are available for purchase that allow you to experience the statue from different levels and access points.
You can see Lady Liberty from the ground, pedestal, or even her crown. After you've taken lots of photos of the Statue of Liberty, you can also take some time to explore the rest of New York City. The Big Apple awaits!
3. The Golden Gate Bridge
California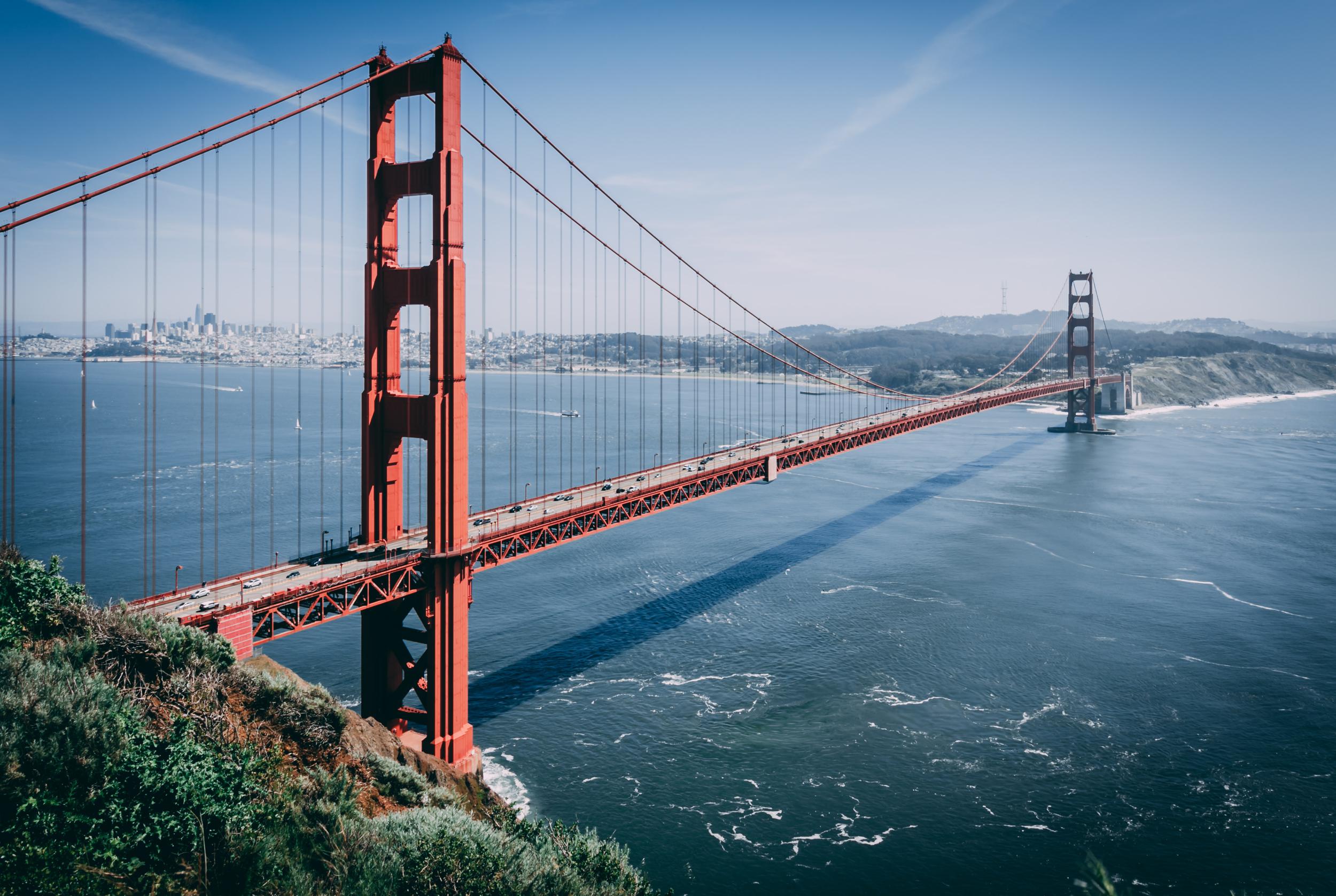 This striking and well-known bridge is one of the most photographed structures in the world and is definitely a must-see when visiting San Francisco, California.
The bridge extends across the Golden Gate Strait and has become an iconic part of the city's skyline. It's also one of the longest suspension bridges in the world.
The reddish-orange color stands out against any backdrop, including the blue California sky or the San Francisco fog.
The bridge's aesthetic truly completes the look and feel of the Golden City.
Visitors can walk along the 1.7-mile span of the bridge, which offers jaw-dropping views all around. You'll get to see miles of ocean and the surrounding hillsides.
You can even stop at the Golden Gate Bridge Welcome Center to learn more about the history of the Golden Gate Bridge and grab yourself a trendy t-shirt souvenir.
Plus, you can enjoy a meal or drink at one of the many restaurants and bars in the area. The Golden Gate Bridge is a sight that must be experienced in person!
4. Niagara Falls
New York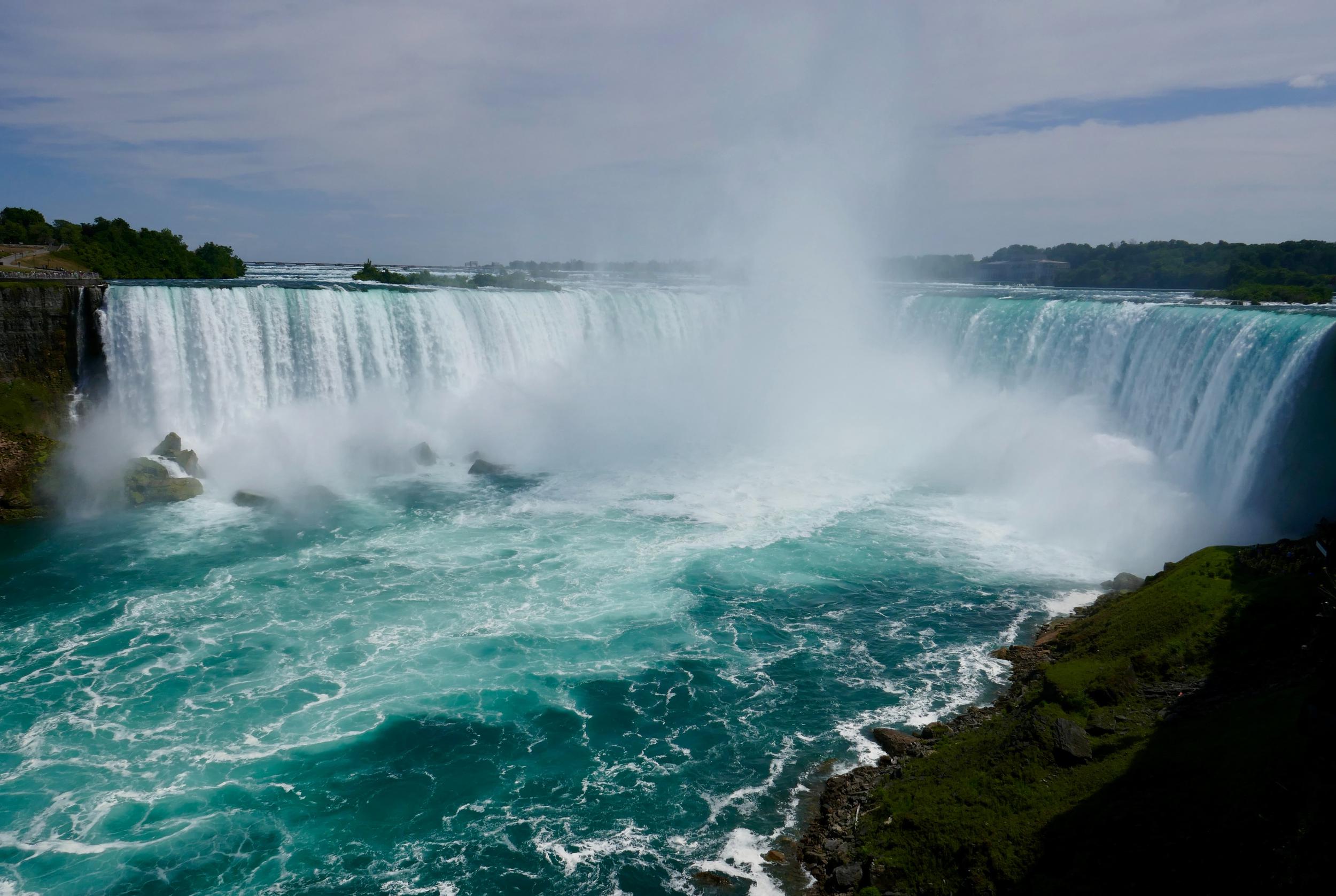 Niagara Falls is one of the most epic waterfalls in the world, consisting of three separate waterfalls: Horseshoe Falls, American Falls, and Bridal Veil Falls.
To give an idea of the scale- Horseshoe Falls has a 187-foot drop, American Falls has an 89-foot drop, and Bridal Veil Falls has a 78-foot drop.
The sheer amount of cascading water is enough to leave anyone in awe! Over 12 million gallons of water flows over these falls per minute. That's a lot of rushing water!
Visitors can choose between staying on land to experience the falls from afar or going for a ride on one of the many boat tours that will give you more of an up-close and personal view.
Several viewing points provide picturesque backdrops, including Prospect Point Park and Luna Island at Cave of the Winds.
Since Niagara Falls sits along the Canada-US border, you can even get a bird's-eye view of Horseshoe Falls from the Niagara Skywheel in Ontario, Canada. Niagara Falls never fails to impress!
5. The White House
Washington, D.C.
The White House is one of the most recognizable buildings in America and has long been a symbol of our nation's strength.
It was designed by Irish-born James Hoban, who modeled it after an Irish country villa.
President George Washington oversaw the construction, which took eight years to complete.
The White House got its name because of the white-colored exterior; however, it was eventually painted gray in the early 20th century.
The president and his family reside at the White House and it has been a popular attraction for travelers since its completion.
With tours of the White House come lots of history! Guided tours take place Monday through Saturday on a first-come, first-served basis.
You can also take a self-guided tour of the public areas of the White House.
Make sure to check out the impressive interior, including the State Dining Room, the Blue Room, and the Oval Office. It's a real piece of presidential history!
6. Yosemite National Park
California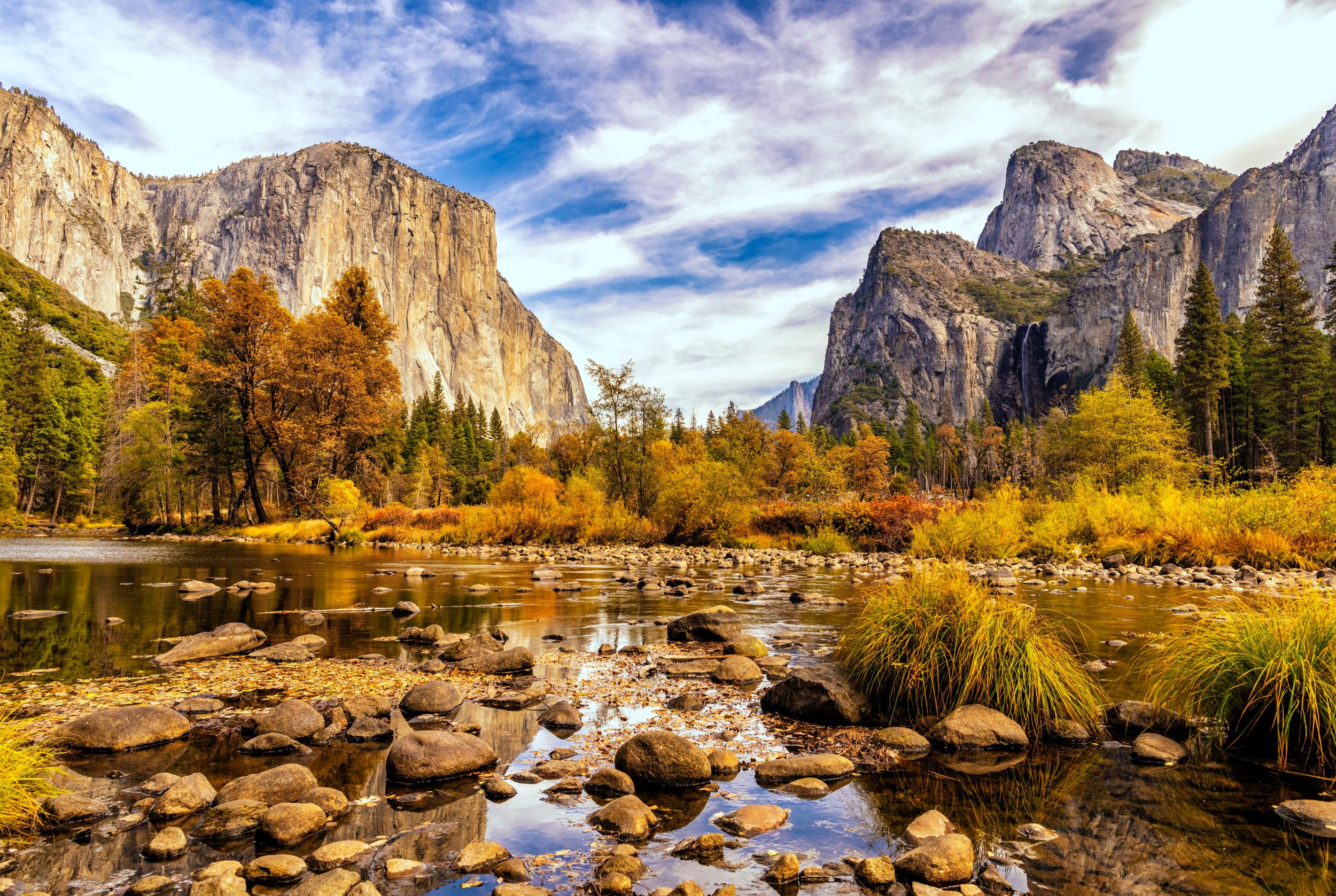 Yosemite National Park is one of the most visited national parks in America with over 4 million visitors each year.
It's an extremely popular destination for people who love nature- so popular, in fact, that there are more than 800 hotel rooms inside the park!
Yosemite offers lots of attractions and activities including hiking trails, wildlife viewing, stargazing, picnicking, rock climbing, snowshoeing, fishing, birdwatching, biking, photography, and all-around breathtaking views. There's so much to do and see!
The park has over 800 miles of hiking trails that are sure to please everyone, including families with children.
You can start at the Lower Yosemite Falls Trail just past the campground on Northside Drive. This easy-to-moderate trail provides beautiful views along its 3.5-mile span.
Or you can take on some of the steeper trails to get a better view such as the Four Mile Trail and the Taft Point Trail.
Camping is another great way to become one with nature at Yosemite National Park.
You'll find plenty of campsites, including RV campsites, group campsites, and horse sites. Yosemite National Park is surely worth exploring!
7. Times Square
New York
Times Square is one of the most notable places to visit in New York City and for good reason: it's where Broadway shows and musicals come to life!
It's also home to some of the most famous advertising in the world. Times Square is a constantly buzzing area with people coming and going 24/7.
From flashing billboards to cruising taxis, the sights and sounds of Times Square are one of a kind.
If you're looking for 'fun things to do near me' while in Times Square, you won't be disappointed. The options are endless and there's something for every taste!
There are theaters, restaurants, and shopping galore. So, grab a cup of morning coffee from a stylish coffee shop and get ready to hit the town.
Oh, and be sure to snap a picture in front of the infamous Times Square ball and see a show on Broadway while you're in town!
8. Waikiki
Hawaii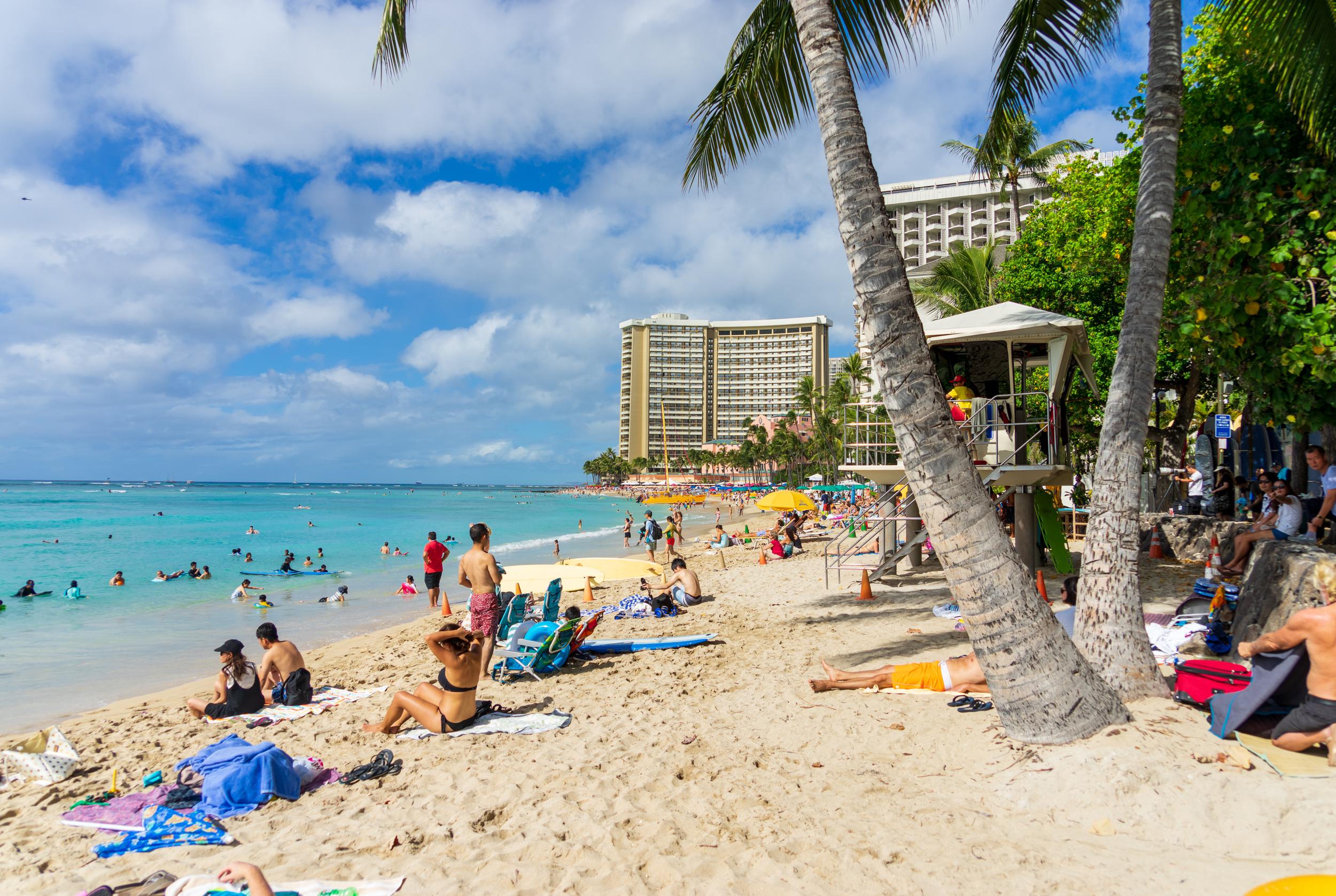 Waikiki is one of Hawaii's best world-famous traveling destinations out there and should definitely make your must-see list.
Waikiki Beach is the perfect spot to swim, surf, sightsee, or just relax in the sun.
The white sandy beach lines the calm waters of Oahu's south shore, providing welcome relief from some of Hawaii's more powerful waves.
Locals love to come out and play in the gentle surf every day!
Inland from Waikiki Beach, you'll find an area known as Kuhio Beach. This stretch is popular for its shallow waters and lagoon-like feel.
If you're looking for 'fun things to do near me' when in Waikiki, the beach is always a hit of course. With endless activities like sand volleyball, surfing, beach frisbee, and more, you're sure to have an awesome day of fun in the sun.
If you're looking for a bit more relaxation, bring a good book and settle down into the sand for some quality reading time.
And when the sun goes down, you can take in some of Hawaii's best food and entertainment with plenty of restaurants, bars, and clubs right on or near the beach!
9. Walt Disney World Resort
Florida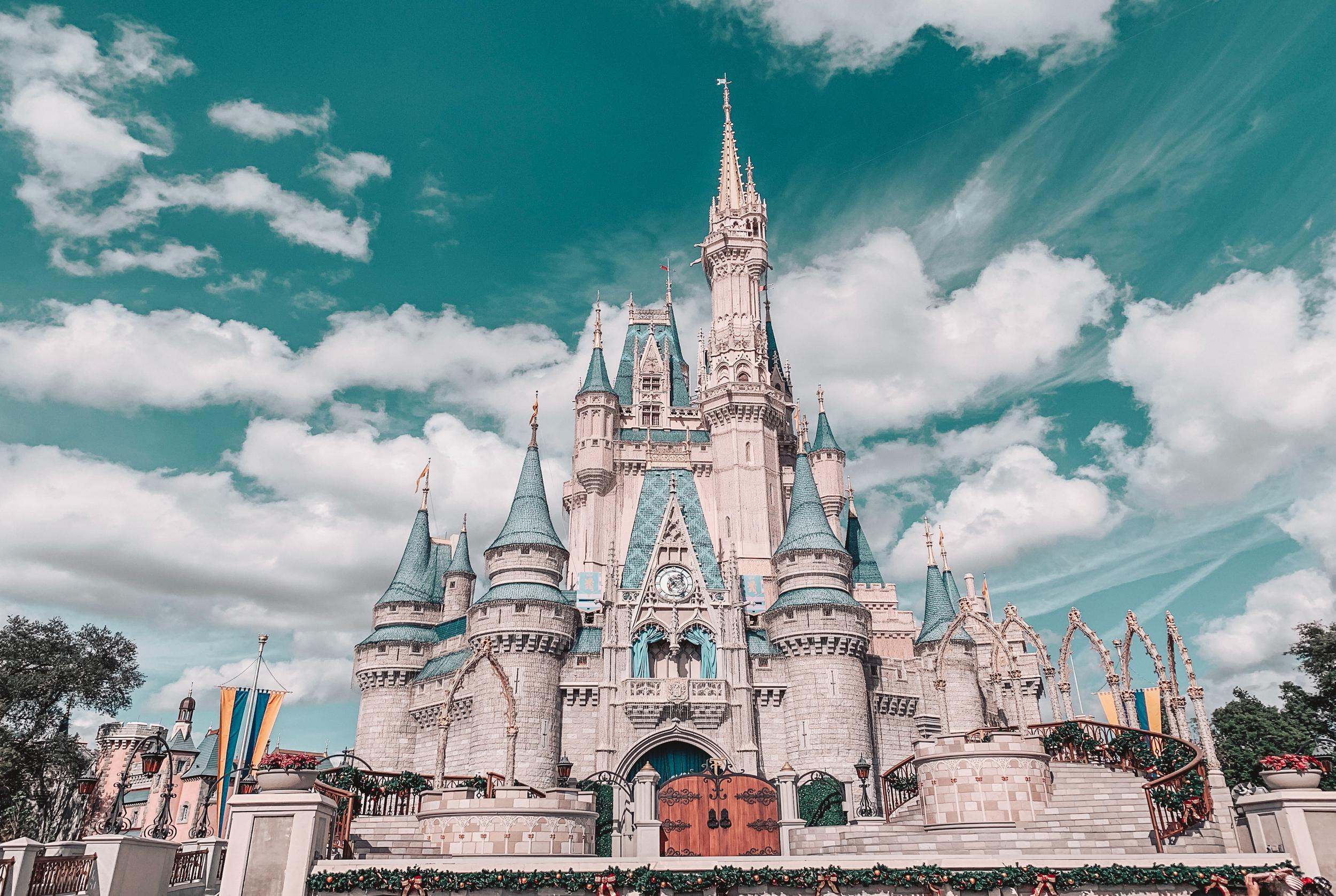 Officially the most visited vacation destination in the world, Walt Disney World Resort spans over 40 square miles of pure magic. Disney is the epitome of fun for all ages- there are exciting attractions for the whole family!
Theme parks like Magic Kingdom and Animal Kingdom provide epic rides, out-of-this-world movie experiences, and classic Disney stories that come to life.
There are also the water parks Typhoon Lagoon and Blizzard Beach which offer thrilling slides, lazy rivers, and cool waves for swimming.
In addition to the parks, there are also tons of shopping and dining opportunities throughout Walt Disney World Resort.
And don't forget about the resorts! Staying on-site at a Disney resort means extra magic and convenience, with front-door access to the parks and plenty of character meet and greets.
So, whether you're a first-timer or a returning guest, Walt Disney World Resort is definitely worth adding to your list! Get ready to discover the magic of Disney!
10. Yellowstone National Park
Wyoming
If you're looking for an unforgettable outdoor adventure, look no further than Yellowstone National Park.
This wilderness park is home to some of the most amazing landscapes in the country, including geysers, waterfalls, and lush forests.
There are plenty of trails for hikers of all levels of experience, so it's perfect for anyone who wants to get out and explore.
You can also go on a wildlife safari to spot buffalo, elk, deer, and more! Plus, keep your eyes open for bears roaming the park!
If you're looking for 'attractions near me' inside the park, there are plenty of visitor centers with engaging exhibitions.
At Norris Geyser Basin Center, you can learn about this thermal area's geothermal features and their role in Yellowstone's ecology.
The Canyon Area Visitor Center is another great spot to learn about the park's history and geology.
And don't forget about Old Faithful! This famous geyser erupts pretty regularly, so you're almost guaranteed to see it go off if you time your visit right!
11. Las Vegas Strip
Nevada
Las Vegas is a city that doesn't disappoint when it comes to excitement and entertainment.
The Las Vegas Strip is the main drag in town, home to some of the most famous casinos and hotels in the world.
You'll find everything from giant replicas of ancient Egyptian pyramids to neon-lit pirate ships on the Strip.
You can even view the city streets by helicopter or open-top bus. And of course, there are plenty of casinos for those who want to try their luck at the tables or slots.
In addition to gambling, the Strip is also full of good food, shows, events, and nightlife.
You can check out live music performances, comedy shows, and enjoy some local cuisine.
There's also the iconic Caesars Palace and the musical light and water show, Fountains of Bellagio. If you're looking for a non-stop party atmosphere, this is the place to be!
Just be prepared to spend a lot of money- Las Vegas is known for being one of the most expensive cities in the United States.
But if you're celebrating a special occasion, just splurge and enjoy! You'll be making plenty of memories along the way.
12. San Antonio River Walk
Texas
The San Antonio River Walk is a beautifully landscaped pedestrian promenade that runs along the banks of the San Antonio River.
Rustic bridges, archways, and large trees provide plenty of shade and ambiance on this colorful stretch of San Antonio.
This attraction is perfect for a relaxing stroll or a romantic date night, with plenty of bars and restaurants lining the walk.
There is also a lovely variety of art and culture to be found here, complete with museums, theaters, and art galleries nearby.
The River Walk is also a great spot for shopping. You'll find everything from souvenir shops to high-end boutiques, so you won't have to leave empty-handed.
And if you need a break from all the walking, you can take a river cruise or hop on a horse-drawn carriage for a guided tour. One of the best things about the River Walk is that it's always changing.
You can find new shops and food stands popping up all the time, as well as exciting events and festivals. There's always something new to explore, so make sure to come back often!
13. Freedom Trail in Boston
Massachusetts
The Freedom Trail in Boston is a 2.5-mile walking trail that leads visitors to 16 of the most significant historical sites in the city.
The trail starts at the Boston Common, America's oldest public park, and ends at the Bunker Hill Monument.
Along the way, you'll see iconic landmarks like the State House, Old City Hall, Paul Revere House, USS Constitution Museum, and much more. It's a history-lovers dream!
The Freedom Trail is a great way to learn about Boston's history.
Each site on the trail tells a different piece of the city's story, from its role in the American Revolution to its prominence as a financial center today.
You can also pick up maps and souvenirs at the visitor center or stop in at one of several museums along the way.
If you're in Boston, the Freedom Trail is a must-see attraction!
14. Glacier National Park
Montana
If you're looking for a stunning natural landscape, then Glacier National Park has you covered!
This spacious park is home to some of the most beautiful mountain scenery in the country, complete with glaciers, lakes, and forests covering its one million acres.
It's also a great place for outdoor activities like hiking, camping, fishing, and backpacking.
Glacier National Park is a great place to visit any time of year.
In the summer, you can enjoy exploring new trails and camping under the stars in one of the park's many beautiful areas.
In the winter, you can go skiing and snowboarding in the mountains. And no matter when you visit, you'll be able to enjoy the stunning scenery.
If you're planning to explore the park while in Montana, there are plenty of options to choose from.
One of the best ways to see Glacier National Park if you are a bit short on time is by car. You can drive along the scenic Going-to-the-Sun Road, hike on one of the many marked trails, or take a boat tour on Lake McDonald.
Several scenic drives take you through different parts of the park, and there are plenty of pull-offs along the way for taking photos or just enjoying the view.
You can fish or bike along many of the park's trails as well.
There's also a variety of visitor centers and lodges scattered throughout the park, so you can always find a place to stay before you head out on an adventure.
15. The Gateway Arch in St. Louis
Missouri
The Gateway Arch in St. Louis is a 630-foot-tall stainless steel monument that pays tribute to the pioneers who first settled in the area.
Also known as the "Gateway to the West," the arch was designed by Finnish architect Eero Saarinen and completed in 1965.
It stands tall in the Jefferson National Expansion Memorial Park.
It's now one of the most iconic landmarks in the United States. Once you see it- with its striking size, shape, and shine- you'll understand why!
Visitors can take an elevator to the top of the arch for amazing views of the city and the Mississippi River.
The evening view of the arch is just as breathtaking since the eye-catching beauty is illuminated at night.
There's also a museum on-site that tells the story of St. Louis' history and its role in westward expansion.
If you're in the area, be sure to check out The Gateway Arch- it's a showstopper with a view!
There you have it! 15 of the best attractions near me in the USA. There's no shortage of amazing 'attractions near me' in the USA!
These are just a few favorites, but there are plenty more to discover and explore. Whether you're looking for adventure, culture, history, or just some good old-fashioned family fun, there's something for everyone on this list.
So get out there and start exploring!
Be sure to check out Destinations Travel Guide for more travel ideas and attractions to visit!