It's time to pack your bags and head down south for some theme park fun!
Latin America is home to a number of thrilling theme parks and attractions that are guaranteed to make your vacation one you will never forget!
The amusement park scene in Latin America has exploded over the past decade, with new theme parks opening every year.
Venture out of the typical tourist hotspots and enjoy Latin America's family amusement gems.
From roller coasters to water park rides, there's something for everyone!
(Looking for even more amusement park ideas? Be sure to check out these amazing theme parks located all over the world!)
1. Six Flags Mexico
Mexico City, Mexico
Six Flags Mexico is a rocking theme park that is based in the Mexico City area and has grown to be the most attended amusement park in Latin America!
It features rides and attractions for all thrill levels- extreme, family, and kid-friendly.
You won't want to miss out on a day well-spent at Six Flags Mexico!
Take the family to enjoy many of the theme park's attractions and adventures, including rides just for kids!
Here you can find all kinds of fun and exciting rides with names like Medusa Steel Coaster, Superman: The Last Escape, Batman: The Ride, and much more.
Families with smaller children will be fascinated by rides like Batman Batcopters, ACME Trucking Company, the Tornado of Taz, and Elmer's Balloons.
As for rides the whole family will love, Aquaman and Crazy Pineapples are sure to please. Last but not least, these next rides are for the thrill-seekers!
You'll be screaming with delight as you take on the world's tallest pendulum ride, CraZanity.
Take a 24-story tall flight on Supergirl Sky Flight or speed along the only 4D Free Fly Coaster in all of Latin America on the Wonder Woman Coaster.
If you're looking for a stomach-dropping experience, you'll also love the sling shot.
Our guess is that you'll want to try it all at Six Flags Mexico and we don't blame you! It's sure to be a blast!
2. Beto Carrero World
Santa Catarina, Brazil
Beto Carrero World is located in Santa Catarina, Brazil and stands as the largest theme park in all of Latin America!
It features a wide variety of theme park attractions, thrilling coasters, and live shows that will have you feeling entertained in no time!
Here you'll find colorful castles like the Castelo das Nações (Castle of Nations), a Ferris wheel, train, and a zoo with over 700 animals.
Talk about family-friendly! Families with kids will love all the photo opportunities with fun characters at the park as well.
There's no shortage of tasty treats and food at Beto Carrero World either.
You'll have all that you could ever need with plenty of shops, restaurants, and cafes on site!
3. Thermas dos Laranjais
Olímpia, Brazil
Thermas dos Laranjais claims the top of the list for best water parks in Latin America.
It's full of challenging and fun water slides, wave pools, tube rides, thermal spring pools, and lazy rivers.
Thermas dos Laranjais water theme park offers a wide variety of wet activities for the whole family to enjoy!
Not only does Thermas dos Laranjais have over 50 theme part attractions to choose from, but it also offers plenty of incredible rides for all age groups!
You can find exhilarating slides for the thrill-seekers and playful attractions for families with small children.
Take a splash-worthy shower under the giant bucket, ride the twists and turns of Caracol (Snail), or take on 30 meters of pure adrenaline with Everest waterslide.
There's also the children's club for the little travelers, complete with water slides, a zip line, and much more!
4. Bahamas Aquaventure
Paradise Island, Bahamas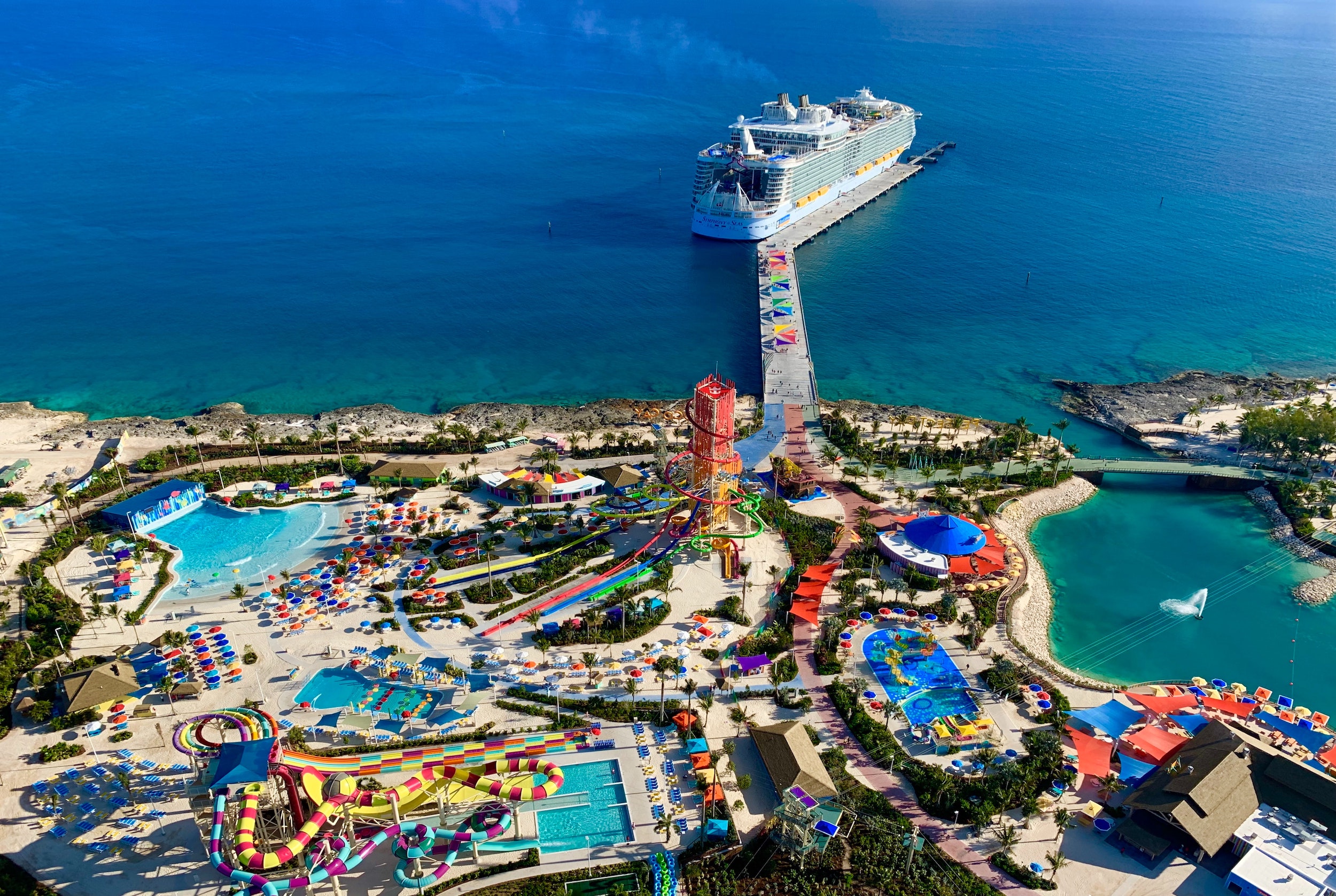 This massive theme park is the ultimate location for some water amusement park fun and adventure!
Spanning over 141 acres, it's one of the largest water parks found in the Eastern Hemisphere.
Aquaventure offers a wide variety of water theme park attractions such as water slides, swimming pools, and a rapid river ride!
Put this all together and you can see why it's one of the most popular water theme parks in Latin America!
This non-stop fun aquatic playground has a fantastic Atlantean theme and is set in a lush and tropical environment.
You'll find 20 swimming areas, 11 refreshing swimming pools, and even a super fun play fort for kids to splash around in!
Travelers, both young and old, will absolutely love exploring this unique "aqua" adventure land!
5. Parque Mundo Petapa
Guatemala City, Guatemala
Parque Mundo Petapa is an enchanting theme park in Guatemala City that's colorful, fun, and full of wonder!
It offers plenty of theme park attractions and rides for travelers of all ages to enjoy.
It's known as a place where you can explore and discover a day of extreme fun with your friends and loved ones!
You can experience some fun thrills on rides like El Relámpago (Lightning), Motobala, Skyscrapers, Magic Bike and North Pole.
There are quite a few other lively attractions at this amusement park including a swimming pool, theatre, and La Jungla zoo.
Take a walk through Stars Plaza, Rainbow Plaza, and Fun Plaza and you'll have plenty to see and do.
View the castle in the central square, browse the kiosks and shops, and challenge your friends or loved ones to an arcade game!
It's even better than a walk in the park!
6. Hot Park (Rio Quente)
Caldas Novas, Brazil
This theme park is unlike any other, claiming to be the most entertaining water park in the Cerrado region of Brazil!
Hot Park is also supplied with the naturally warm waters found in the area, so it's definitely an impressive amusement water park!
The water theme park in Brazil offers a wide variety of splashing attractions including slides, waterfalls, a lazy river, warm swimming pools, zip wires, beaches, and more.
Travelers can also have a blast at the surf school or go on an adventurous kayak tour while visiting the park!
On top of all that, you can also explore the super cool aviary with over 200 birds flying around!
You'll love observing the different colors and species of birds.
There's plenty of food and drinks to go around as well, so you won't go hungry. It's the best of both worlds! 
7. Parque Plaza Sésamo
Monterrey, Mexico
Are you or your kids fans of Sesame Street? Then this is the amusement park for you!
Similar to Sesame Place located in the U.S., this Sesame Street-themed park features the fun characters as seen in the show.
You can laugh the day away with Elmo and Cookie Monster!
The park is split into three fun-loving areas to explore- Isla Aventura, Aquamundo, and Villasésamo.
In these parks you'll find exciting rides, three theaters with entertaining shows, swimming pools, slides, and two adventurous wave pools.
You can also check out the castle of Count von Count while you're there- you won't want to miss it!
As for food, you can munch on snacks and eat at the tasty restaurants onsite.
There are rest areas complete with lounge chairs for visitors that want to relax and take a breather.
Don't forget to stop in the many different shops throughout the park as well!
8. Parque Mundo Aventura
Bogotá, Colombia
Parque Mundo Aventura is a theme park in Bogotá that'll make you leave the everyday stresses of life behind!
It features tons of amusement park attractions, thrilling rides, and even fascinating animals.
Take a stroll around the theme park or find a seat in one of the shows at the 5D theater for an excellent time.
This amusement park offers thrill rides with names like Tropicana, Quantum, Crazy Jump, Xtreme, and Sky Coaster.
There are also a variety of kid and family-friendly attractions such as the carousel, arcade, and bumper cars.
You'll find multiple playgrounds, a soft play area, and even an aquarium to adventure in!
From roller coasters and log rides to souvenir shops and pony rides, there is so much to explore at Parque Mundo Aventura!
9. Fantasilandia
Santiago, Chile
Escape to Chile and experience a wild ride at this fantasy theme park!
Fantasilandia has definitely grown over the years to become one of the most popular amusement parks in South America.
It features adrenaline-pumping rides, family fun, and kid-friendly attractions. Plus, you can test your skills with mini sport and shooting games!
Shoot through a 'black hole' on a dark, raft water slide.
Leave your stomach behind on the Boomerang roller coaster or drop on the Xtreme-Fall ride.
Spin around and around in circles on the Disko- the thrills are endless!
Families and children will love the Bumper boats, trains, and of course the always classic Carousel.
Then, when you're ready to eat, you can stuff your face with a delicious burger or cheese empanadita.
Don't forget to top it all off with some sweet ice cream or sugary churro- talk about yum!
10. Parque Nacional del Café
Quindio, Colombia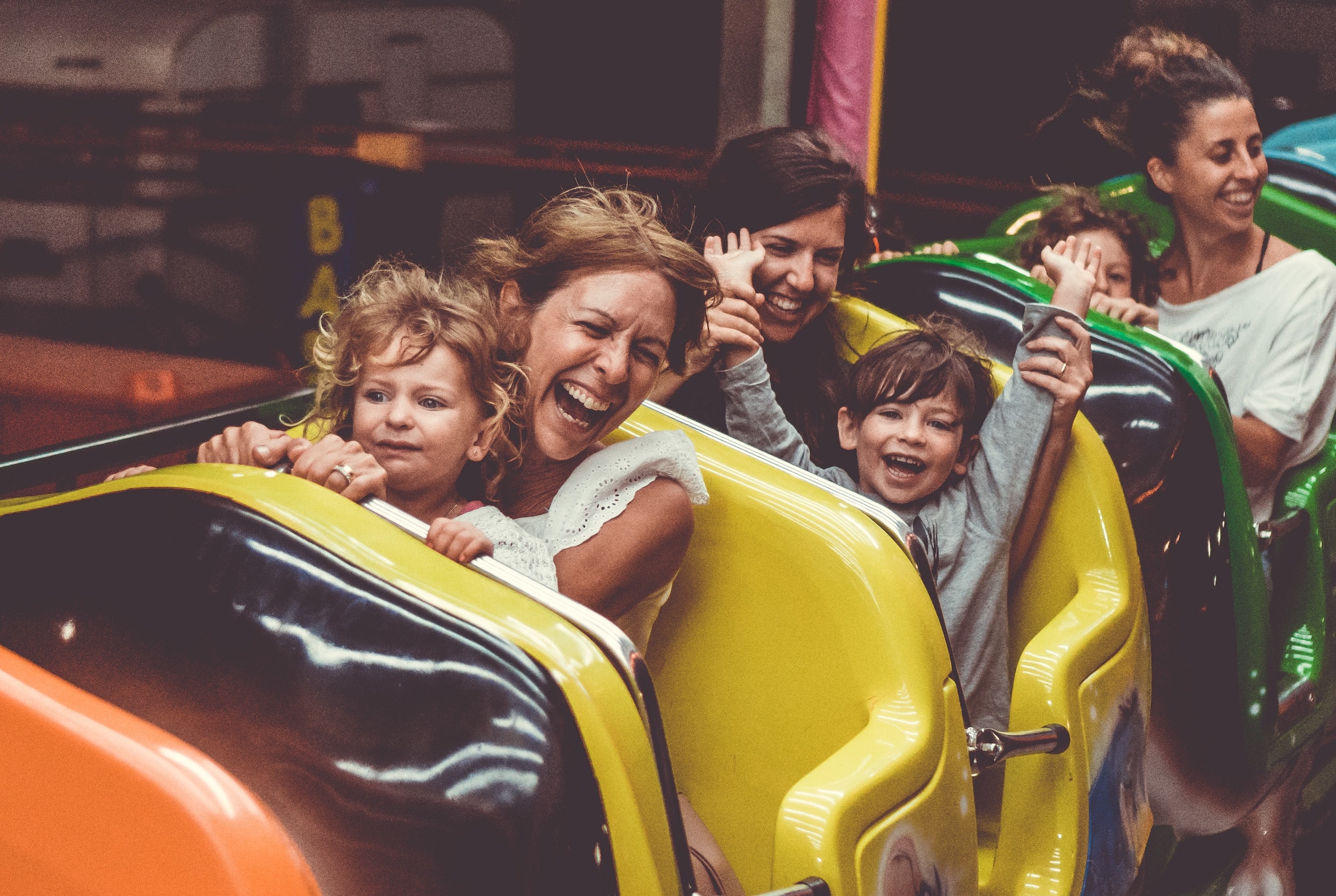 Fun and fascination are brewing at this theme park with a tasty twist!
At Parque Nacional del Café, you'll discover the amusement park in Colombia that's unlike any other.
This thrilling destination is part theme park and part museum!
Take your family on an adventure through the theme park where you'll find speedy roller coasters, riveting rides, and animatronic shows.
Check out the ecological trail and coffee garden for a little trip into nature as well!
Here you can experience exhibits that explore the history of coffee growing, as well as the process that brings you that steaming cup of joe!
This theme park and museum is overflowing with coffee-flavored fun- it truly is one of a kind!
11. Parque Xcaret
Cancun, Mexico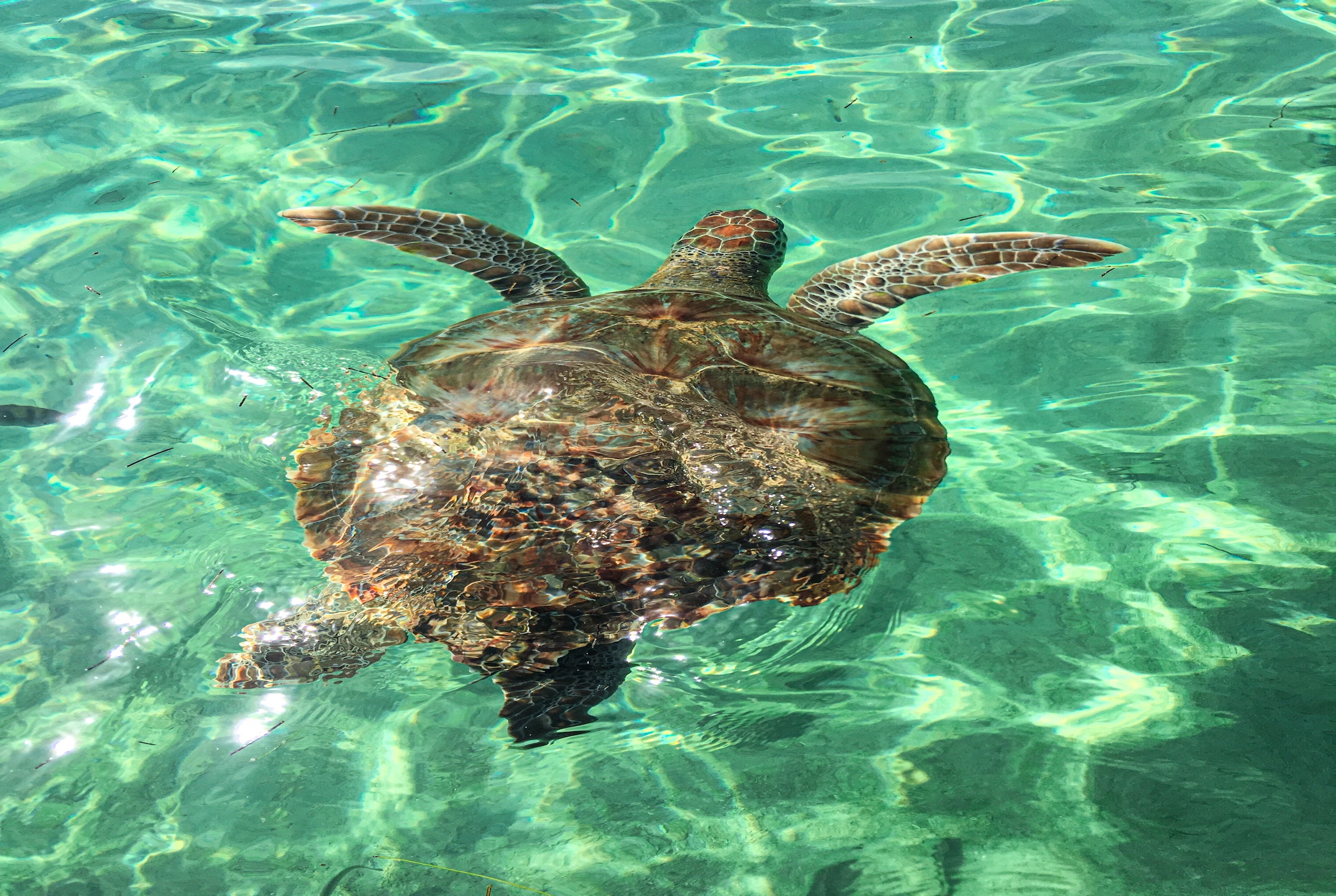 Parque Xcaret is a cultural amusement park in Mexico that you won't want to miss out on!
Here, you can enjoy a day of fun in the sun with your friends and family.
There are tons of thrilling rides and attractions that will make your time here more than memorable!
You'll love everything this theme park has to offer- from spectacular shows to the beautiful Aviary.
There are more than 50 attractions and activities to choose from. Explore among the caves, jungle, tropical wildlife, and underground rivers of Mexico!
Observe the colorful aquatic life in the Coral Reef Aquarium, learn something new at the archaeological sites, and walk among the butterflies at the Butterfly Pavilion.
Nearby hotels and onsite restaurants make this park easy and convenient to spend the day at.
It's no wonder this amusement park is one of the top parks in Latin America!
12. Parque de la Costa
Buenos Aires, Argentina
At the theme park, Parque de la Costa, you'll find fast roller coasters and endless laughs!
This Argentine amusement land is located not too far from Buenos Aires and is brimming with smiles!
Its unique attractions and awe-inspiring rides will make for an amazing experience- whether you're spending time here as a family or on vacation with your friends.
Scream with excitment on the Vertigo Extremo or the Boomerang Roller Coaster, have a laser-tag or bumper car battle against your friends, or check out Esports Land for some gaming fun!
If you're hungry, grab a savory meal at the Food Court or a sweet treat at the Kiosk.
You can also enjoy the delicious, air-conditioned Winners Pub Restaurant. 
Get ready for a day filled with food, games, and coasters!
13. Beach Park
Aquiraz, Brazil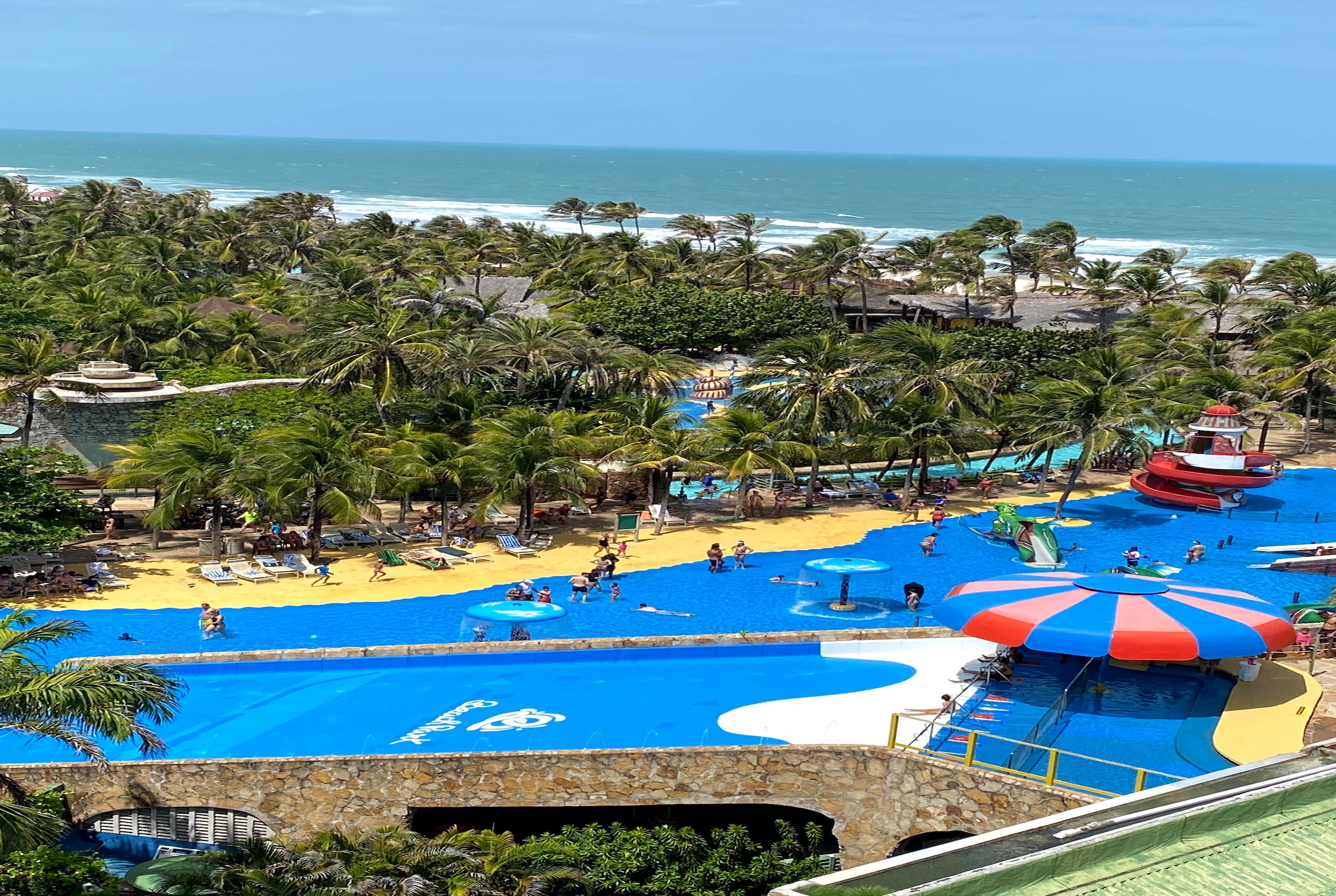 Located on the sandy beach of Porto das Dunas in Aquiraz, Brazil, this park is one amusing place you'll love checking off your bucket list!
Beach Park actually includes a water park, beach, and resort all under one name!
This water park and resort covers 170,000 square meters and features water rides, restaurants, and hotels.
Ready to hop over to the water park from the resort hotel?
You can float along an artificial river that will transport you into a water-filled land with slides, pools, and plenty of refreshing rides! 
Soak up the sun at this Brazilian theme park where attractions include twisty water slides, 14-story drops, and high-speed rafts!
You'll never want the fun to end!
Ready for the Ride of Your Life?
These top amusement parks in Latin America are roaring and ready to go!
From Six Flags to Beach Park, you'll love your time spent adventuring at each of these epic theme parks.
Remember to keep your hands, arms, feet, and legs inside the ride at all times and prepare yourself for a mind-blowing adventure!
Looking for more to explore? Visit us at Destinations Travel Guide– we've got you covered!