After a long and stressful week of work, nothing sounds better than a sunny trip to paradise!
And what a more beautiful paradise to visit than the Bahamas! Surrounded by palm trees and the tropical breeze, you can sit back and relax as the soft sand and aqua blue water tickles your toes.
All your worries will be washed away in no time!
(Looking to add another island paradise escape to your list? Check out these 10 tips for visiting Aruba
With the Bahamas being so close to Miami, Florida (and an international airport), it's easy for people from all over the world to get there.
When most people plan a vacation to the Bahamas, they think they have to take a week off work and spend a lot of time (and money) to make it work.
Of course, going that route can be fun since there's plenty to do and see on the islands! But many people don't realize that you can also just make it a refreshing day trip!
Bahamas day trips from Miami are a great way to get out and enjoy some of this beautiful country without needing to make an extended stay.
If you don't believe us, here are 8 reasons why it's worth it to plan a Miami to Bahamas day trip!
1. Bahamas Day Trips Offer Different Experiences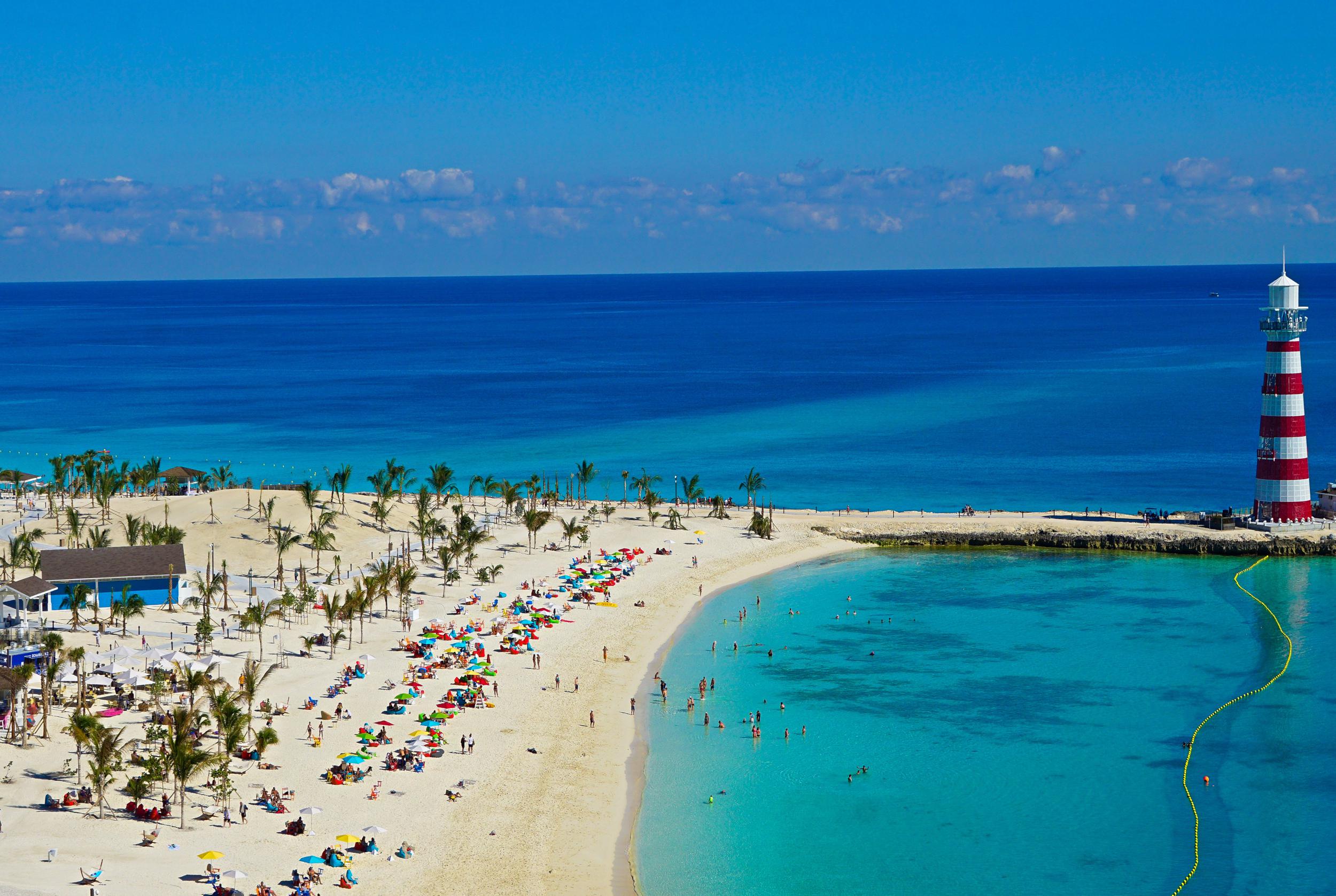 Miami to Bahamas Day Trips are the perfect way to spend a day!
Especially if you love sunshine, gorgeous views, and a relaxing atmosphere- but who wouldn't love all that!
You will find plenty of activities available on a Bahamas day trip, no matter what your interests may be.
Whether you love snorkeling or just want a low-key day at the beach, there are plenty of island options that will allow you to have the adventure you are seeking.
You can even visit two different islands for the ultimate Bahamas day trip experience!
2. Fun Things to Enjoy and Explore for All Ages
One of the best parts about Bahamas Day Trips is that there's something for every age!
Whether you are looking for some water sport fun or a relaxing day without swimmers, there's something available to everyone.
With Grand Bahama Island being the most visited island in the Bahamas, it makes sense that this is where you will find many options.
Plus, it's so close to Miami at only a 2.5-hour boat ride away!
But don't worry- you can still visit one of the Out Islands if you are looking for a more secluded experience.
On the islands you can find fishing, swimming, snorkeling, parasailing, gorgeous sand beaches, buzzing markets, local cuisine, waterfalls, and wildlife.
If you're looking for a real Bahamas adventure, you can explore the awe-inspiring underwater caves at Thunderball Grotto!
Surrounded by colorful reefs and fish, you can swim, snorkel, dive, and float in the aqua-blue waters.
You'll love strolling along the white and pink sandy beaches or swimming with dolphins.
You might even come across swimming pigs! If you're keen on seeing the swimming pigs, be sure to visit the Out Islands.
It's on these islands that the swimming pigs like to splash around in the shallow waters of Big Major Cay, also known as the lovely Pig Island.
3. Home to Some of the Best Beaches in the World
The Bahamas is home to some of the best beaches in the world and should definitely be on your list of top beaches to visit!
While there aren't any specific islands that are considered the best beaches in the Bahamas, some of the more frequented beaches are found on Grand Bahama, Nassau, and Paradise Island.
If you're looking to have a more private and quieter beach day, you might want to check out the picturesque sandy beaches of Gold Rock Beach and Rose Island.
Pink Sands Beach on Harbour Island is another dreamy beach destination.
With 2,000 beaches to choose from, there's no doubt you will find the perfect fit for your day trip and Bahamas vacation!
So, if you're a beach lover, this destination should definitely be on your bucket list!
4. Easy Travel to the Bahamas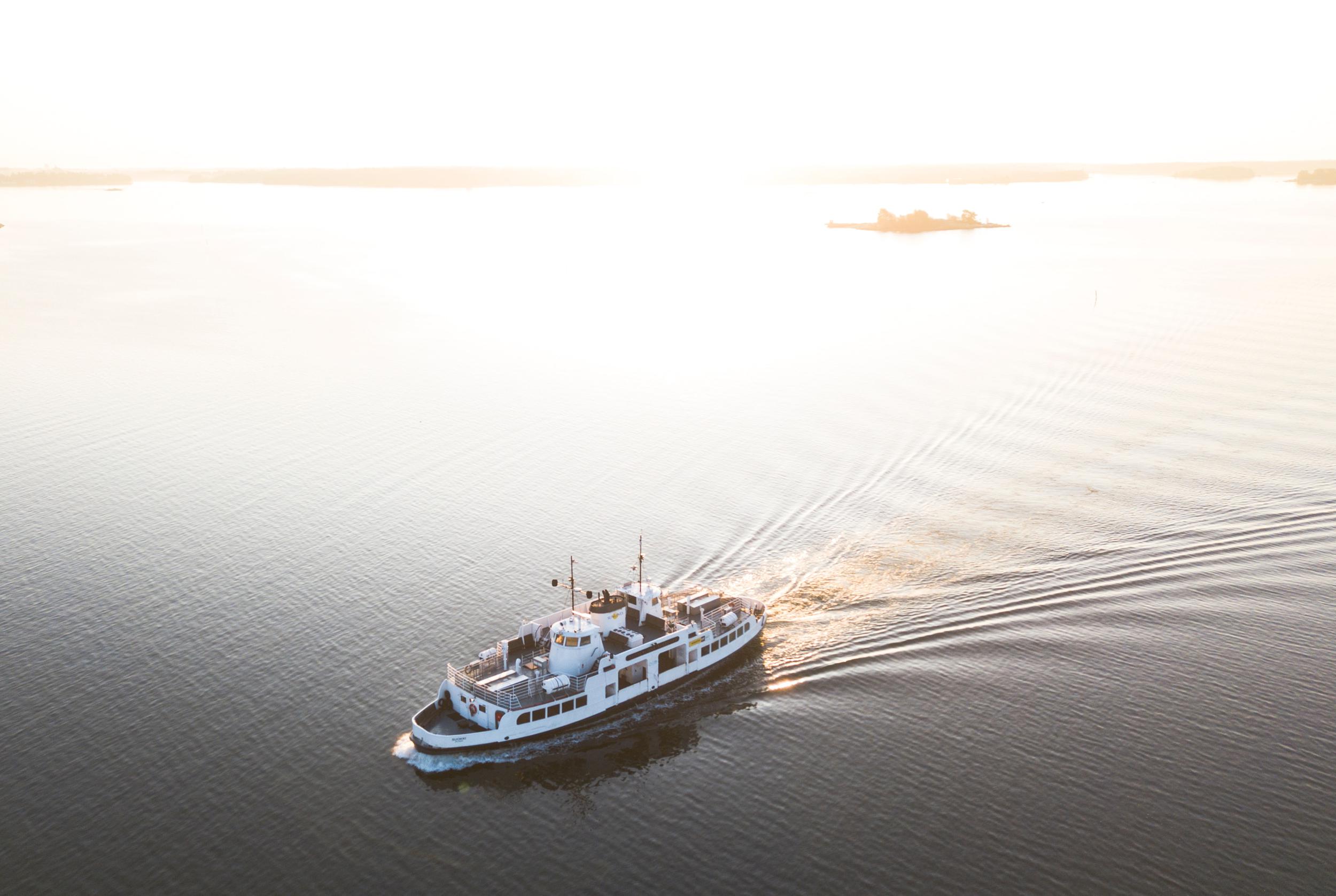 By boat or by plane, there's plenty of comfortable and convenient transportation to get you headed out on your day trip to the Bahamas!
Take a relaxing cruise out of Miami to visit the nearby islands. A ferry setting sail from Miami to Freeport will only take about 2.5 hours, leaving you plenty of time to enjoy the sights and sounds of Grand Bahama!
If you're looking to get from Florida to the Bahamas in a timelier manner, traveling by plane is faster than a boat ride.
If you have your heart set on island hopping and visiting the Out Islands, taking a trip from Miami with Bahamas Air Tours will leave you with more time to explore your destination.
You won't regret taking time to island hop through the Exuma Cays. Travelers can agree it truly is an extraordinary experience- plus, we can't forget about the swimming pigs on Pig Island! Swimming at pig beach is a must-do!
When debating the cost, a day cruise on a ferry will most often be more affordable. Although you may be able to find a deal or even bundle your transportation with a meal or two included in the price.
Bahamas Air Tours is a great way to go if you want an all-inclusive Bahamas day trip experience, but it will cost a bit more out of pocket!
5. Food, Food, and More Food
You'll find great food options on your day trip to the Bahamas!
There are plenty of places to grab a bite to eat, like seafood restaurants with a fresh catch of the day and cafes serving tropical fruit smoothies.
You'll love the taste of the authentic cuisine, and the kids will enjoy all the fresh fruit they can eat! 
You may be surprised to know that Bahamian cuisine varies slightly depending on the island you visit!
While there is some overlap in ingredients, food on the Grand Bahama can be quite different from the food found on other islands. From Roast Conch to Conch Burgers, Tony Macaroni's Conch Experience has you covered.
Travelers also love Banana Bay and Manta Ray Beach Club for the whole family.
If you're hoping to try some authentic local foods on New Providence Island, check out Travellers Rest Restaurant in Nassau.
Visitors can't get enough of the friendly service and tasty fritters. Wherever you decide to eat however, the food is sure to be freshly caught and delightfully prepared!
6. Enjoy a Unique Shopping Experience
There are some excellent shopping opportunities available throughout a Bahamas day trip as well, especially on Grand Bahama Island!
There's no shortage of souvenirs, plus something for every budget! You'll find straw goods, pine seed dolls, rum, jams and jellies, cigars, and colorful batik fabrics.
If you like seashells, conch shell jewelry is another popular good on the Bahamas. You'll even be able to get your hands on some local art if you'd like!
Whether you're shopping for a piece of artwork or a beautiful shell necklace, you can find it in Grand Bahama.
7. Discover Culture and History
With 700 islands to explore and over 2000 years of inhabitants, you're bound to run into some amazing cultural and historical sites!
The Bahamas is home to many historical sites, like Fort Fincastle in the city of Nassau.
This grand fort was built as a defense against French pirates and still stands today!
In fact, Nassau is a real hot spot for historical sites in the Bahamas. Fort Charlotte is the largest fort you can find on the island.
You can also see Fort Mantagu, which is the oldest fort in Nassau and dates back to 1725.
Queen's Staircase is a popular Nassau favorite, spanning 102 feet with 65 stone steps to climb. Don't forget to check out Parliament Square and the Nassau Public Library and Museum while you're there!
You can embrace the unique and colorful Bahamian lifestyle on your day trip as well.
If you're visiting during Junkanoo, one of the most popular cultural festivals on the island, you'll experience lively music, colorful costumes, and ornate headdresses!
You can move to the rhythm as thousands of people dance in the streets alongside you.
As you can see, there's plenty of culture to experience and history to learn on your day trip to the Bahamas!
8. Take Time to Relax and De-stress
A Miami to Bahamas day trip is the perfect way to take some time for yourself and unwind.
Everyday life is full of stress and noise, so it's important to set aside moments for rest and relaxation.
And what a better way to do that than taking a lovely day trip to the Bahamas to find a little slice of heaven! 
If you're hoping to unwind on your Bahamas day trip, there are plenty of secluded beaches and beautiful sunsets to enjoy.
You can even rent some snorkel gear if you'd like to enter a whole new world and explore life under the sea. When the sun goes down you can kick back on the beach with a nice glass of rum and watch as the sky fills up with stars.
You'll be able to leave your worries behind, enjoy some much-needed peace and quiet, and experience an unforgettable time in paradise!
So, what are you waiting for? Pack up your bags and head out on your Miami to Bahamas day trip!
Be sure to check out Destinations Travel Guide for even more getaway fun and ideas!