Do you love water parks? The kids are out of school and it's time to find a summer activity that will keep them busy, right?
If you're looking for water parks near Philadelphia, PA, then this list should help!
These 9 best water parks near Philadelphia offer something for everyone.
Whether your family is looking for a fun day at the pool or an adventurous ride down one of many slides, these waterparks have got it all!
If you're looking for a family-friendly theme park, there are plenty of options to choose from. You can check The 7 Best Theme Parks for Family Vacations
1. Kalahari Waterpark –
Pocono Manor, PA
Kalahari is a waterpark resort in the Pocono Mountains of Pennsylvania. This water park offers something for everyone, including thrilling rides and slides that you can see from your hotel windows!
And don't worry, if you aren't going to stay in the hotel you can still purchase day passes!
If you're looking to cool down there are two large wave pools where anyone can play and swim all day long.
They also offer both indoor and outdoor pools! Not to mention the indoor water park is the largest indoor waterpark in the United States!
Kalahari has one of the largest collections of African-American art anywhere in America – it's worth checking out even if you don't want to go on any water slides!
2. Camelbeach Mountain Waterpark –
Tannersville, PA
Camelbeach Mountain Waterpark is located just south of Philadelphia and this water park provides some fun features unique to water parks like an arcade room with games, a miniature golf course, and batting cages as well as many more refreshing attractions – perfect for any family vacation!
Children of all ages can enjoy an array of water slides, a children's play area and more. Camelbeach Mountain Waterpark is open during the spring/summer season from Memorial Day weekend to Labor Day Weekend.
If you're looking for something with less height restrictions and don't mind driving about one hour outside of Philadelphia, this is a great option!
3. Dorney Park & Wildwater Kingdom –
Allentown, PA
Located in Allentown PA, Dorney Park & Wildwater Kingdom is one of the "bigger" parks in Pennsylvania. With plenty to do and see, it's a great all-day destination for families looking to spend time together.
This water park has something for all ages, with water slides of all heights, an outdoor wave pool, and a water playground for the younger kids.
They even offer some live entertainment in the envenings as well! And what is not to love about a park that has both indoor and outdoor pools? The older kids can enjoy rollercoasters, rides, a wave pool, and water slides while the younger ones get to enjoy their own separate area with interactive water play areas, splash pads, and a lazy river.
Dorney Park & Wildwater Kingdom is only an hour outside of Philadelphia, so if you're looking for somewhere close to you this water park is the perfect choice.
4. Dutch Springs Aqua Park –
Bethlehem, PA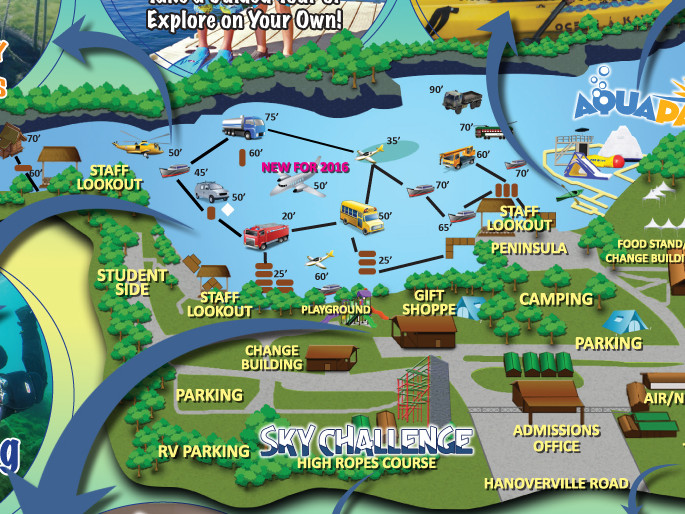 If you are looking for something a little more unique and immersive than a water slide, Dutch Springs Aqua Park may be the right choice for you.
Located on Dutch Springs Lake, this outdoor waterpark has a natural beach, sand castles, and much more. There are also opportunities to enjoy canoeing and kayaking at the park!
The main attraction Dutch Springs offers is their inflatable obstacles! The kids will love climbing and jumping on all the different inflatable options!
They have inflatable rock walls, trampolines, slides, and so much more! Entertainment will be easy to find at this floating water park!
5. Six Flags Hurricane Harbor –
Jackson Township, NJ
If you are looking for a water park with the most thrills, Six Flags Hurricane Harbor may be what your family is craving.
There's no way to describe this place other than as an incredible amusement waterpark! The possibilities of fun and adventure at this attraction will never run out!
Your kids can enjoy all of their favorite attractions including six different slides, a free fall, three kiddie pools, two lazy rivers, and one children's play area that offers beach volleyball courts and other games!
This water park also has plenty of food options available on site too so your little ones won't go hungry anytime soon. Any family looking for fun and adventure will not be disappointed with Six Flags Hurricane Harbor!
6. Hershey Park –
Hershey, PA
Hershey Park is a famous amusement park with chocolate themed attractions. It's a water park and theme park all in one!
Your family will have plenty to do at this theme park! With over 30 rides, including 17 thrilling roller coasters;
Hershey Park is the perfect destination for thrill seekers. The water parks on site have plenty of slides too so your little ones can enjoy some thrills themselves!
There are also different themed sections within this waterpark like an area dedicated to "the world famous Hershey's Kisses" candy bar where children can play with oversized chocolate replicas while they cool off at one of two huge kiddie pools.
Hershey Park has something for everyone and if your chose to visit, it wouldn't hurt to pack a few extra pairs of clothes (just in case)!
7. Sesame Place –
Langhorne, PA
Sesame Place is a family friendly water park and amusement park located in Langhorne, PA. This waterpark is geared more towards toddlers with the majority of its attractions being for that age group;
but there are also rides that older children can enjoy as well! The main attraction here is Sesame Street's Big Bird who greets you at the entrance (with a song).
Other than this adorable mascot, kids will love Elmo's Splash Safari – an interactive water play area where they chase each other through giant sprinklers while squirting each other from oversized H20 cannons!
There are over 20 different places to eat including two food courts so parents don't have to worry about packing lunch or dinner. You'll find everything from hamburgers to pizza all served up by friendly employees.
8. Raging Waters Water Park –
Wildwood, NJ
Located right on the beach, Raging Waters Water Park is the perfect option if you can't decide between a beach vacation or a water park!
With a wave pool, lazy river and water slides galore your whole family is sure to have plenty of fun, and when you are ready to lay on the sand and relax by the ocean you are only a few steps away!
Raging waters has options for all ages!
Younger children can enjoy splash pads and the lazy river, while the older teens can try out the rope swings and thrilling slides.
Raging Waters is a seasonal park so make sure to check the hours before visiting!
9. Breakwater Beach Water Park –
Seaside Heights, NJ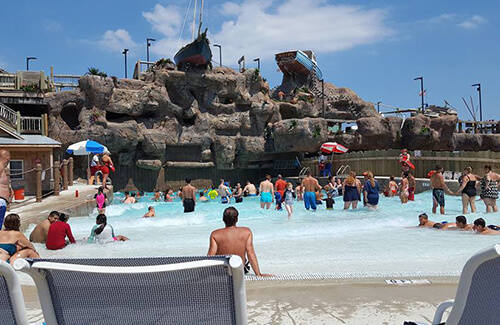 Breakwater Beach is an amazing water park in Seaside Heights, NJ. This water park is also located right by the coastline offering a vacation with the best of both worlds.
Breakwater offers many fun amenities for all ages including a wave pool, splash pads, a lazy river, and countless waterslides!
For those feeling extra daring, they have a 50 foot free fall water slide that is sure to make everyone scream.
There are also plenty of spots to lounge and enjoy the views while your kids scare themselves silly trying out waterslides.
Want more than just theme parks? Destinations Travel Guide is your go to for Family Vacations.