Europe is a continent rich with tradition, culture, and history.
It's an excellent place to visit when you're in need of a great getaway.
Luckily, it's also home to some of the best resorts in the world!
(Check out the Best Family-Friendly Resorts in Mexico as well- another excellent getaway destination!)
In this article, we are going to take you on a tour around Europe and show you nine resorts that will make your vacation an unforgettable one.
Get ready to pack your bags- you won't want to wait any longer!
1. Mitsis Laguna Resort & Spa
Crete, Greece
The first stop on our tour is the Mitsis Laguna Resort and Spa.
As one of the best all-inclusive resorts you can find in Crete, Greece, this resort is perfect for those who are looking to relax and unwind.
Located right on the soft, sandy beach, you won't have to go far to enjoy a stunning sea view.
If you're a foodie, then you'll love the fine dining options this resort has to offer.
With seven high quality restaurants to choose from, you'll enjoy fresh food and international cuisine.
Your taste buds will be in Mediterranean-style heaven, not to mention the creperie and gelaterie for your sweet tooth!
Amenities include a lovely spa and wellness center, tennis courts, fitness classes, beach volleyball, and art lessons.
For the water lovers, there are five swimming pools complete with both waterslides and waterfalls- plus a children's pool for the younger ones!
The resort also has a Mini Club for kiddos ages 4-11 years old, perfect for a little adult alone time.
You won't be disappointed with this wonderful all-inclusive five-star resort!
2. Royal Hideaway Corales Suites
Adeje, Spain
On the beautiful and sunny island of Tenerife, you'll find your own little piece of paradise at the Royal Hideaway Corales Suites.
This luxury hotel is great for families, couples, and everyone in between!
This resort is a great place to come if you're looking to get some quality pampering time in.
It has a butler service, spa, sauna, and steam room for all your relaxing needs.
You can even book a deluxe suite for your own heated (and private) saltwater pool to soak in.
For the young little travelers, there are plenty of fun activities to enjoy at the hotel's Kids Club. There's science, art, music, theater, and more!
With its beautiful pool areas and breathtaking ocean views, you'll never want to leave the hotel.
Onsite you'll find excellent amenities including a 24-hour gym, a coffeehouse, creative art and culture workshops, and various sports programs.
Plus, with two delicious restaurants offering a wide variety of tasty dishes, you'll have all that you'll need to enjoy your stay!
3. Bellis Deluxe Hotel
Antalya, Turkey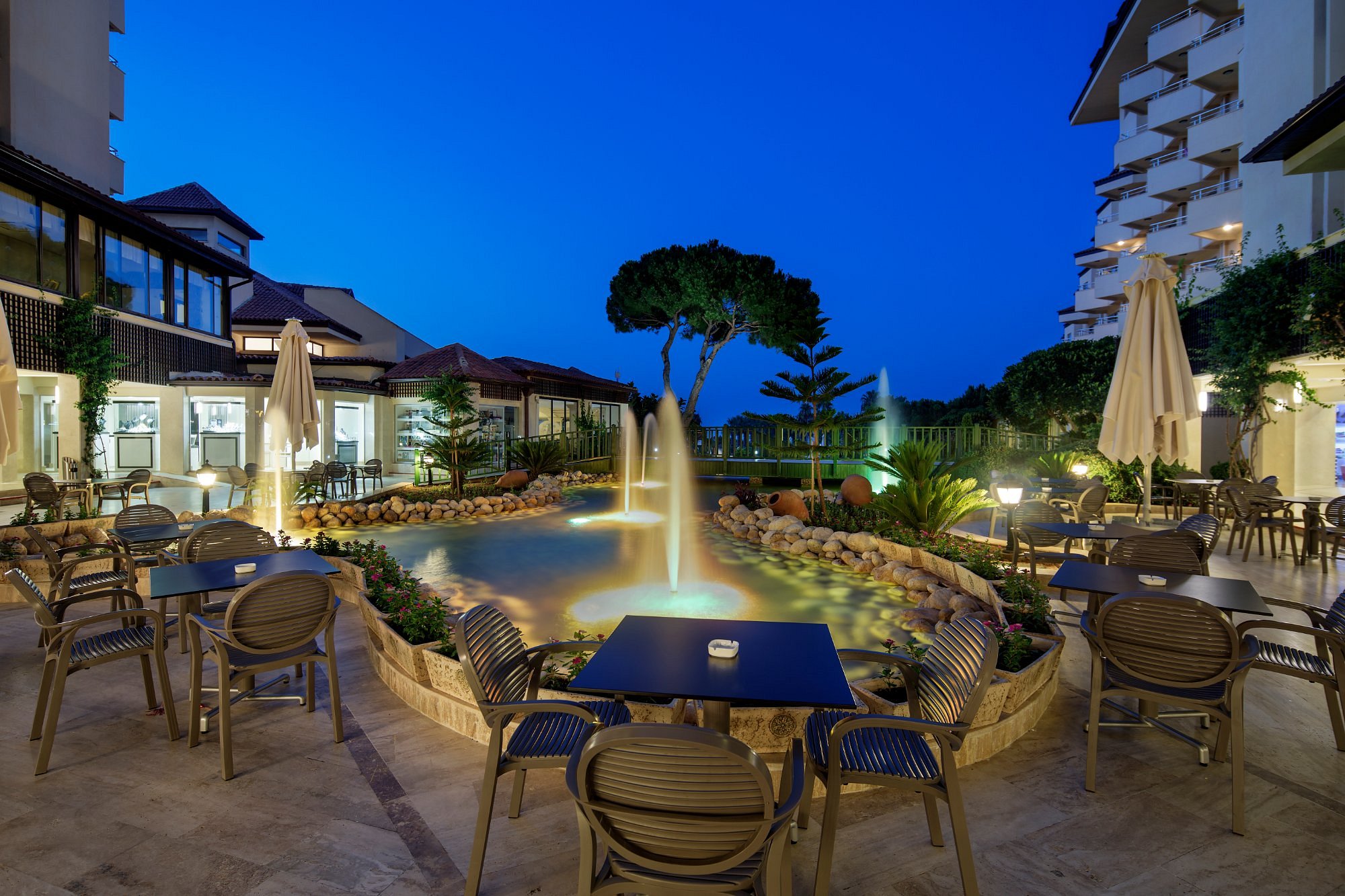 Take in the turquoise blue waters of the Mediterranean Sea as your worries melt away at the Bellis Deluxe Hotel.
Choose from over 550 luxurious rooms and enjoy a beach, sea, or garden view. Both adults and kids will love this vacation destination!
The Bellis Deluxe Hotel is a great family resort with plenty of activities to keep the little ones entertained.
Kids will love the Pony Kids Club where they can join in on different activities and workshops.
The resort also has its own giant water park, complete with five refreshing swimming pools. Even more to explore- there is also a Horse Farm and a Zoo!
For your own personal relaxation, there's a stunning lagoon pool, lounge, fitness center, and a lovely wellness spa.
You can even book one of the private villas and have a pool all to yourself.
This hotel offers its guests some excellent amenities including tennis courts, a Kids Club for the little guests, and even five a la carte restaurants serving up fantastic cuisine.
With its beautiful pool areas and endless snack options, this is surely going to be your new favorite vacation spot in Turkey!
4. Azia Resort & Spa
Chloraka, Cyprus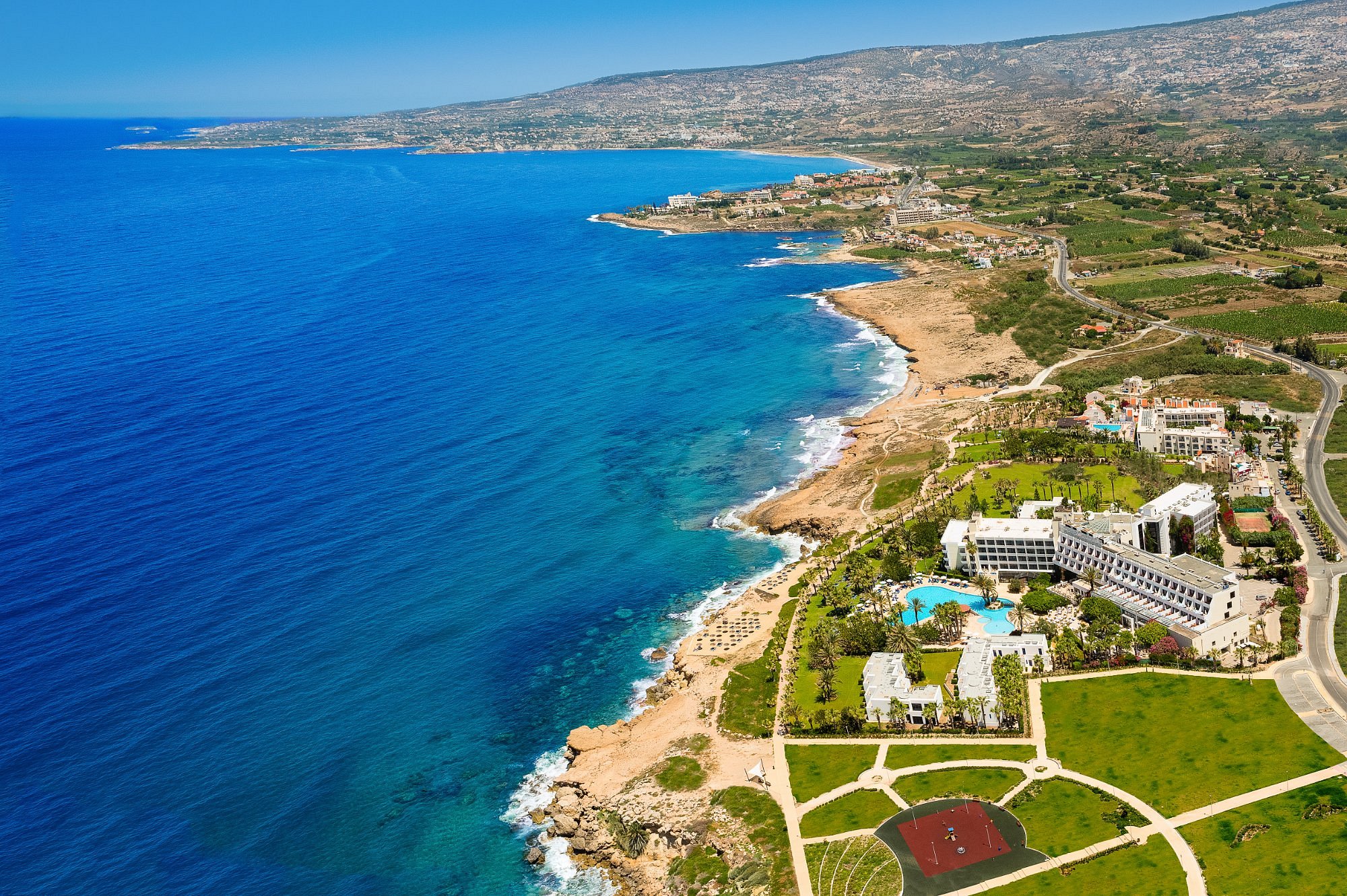 At this luxury award-winning hotel, you can choose from over 190 things to do or simply do nothing at all.
That's the beauty of the Azia Resort and Spa! It offers fun and adventure, as well as peace and tranquility.
This resort offers tastefully designed rooms and suites with a light and airy feel.
You'll find yourself surrounded by the lush Mediterranean landscape, gorgeous beaches, and breathtaking views.
The resort also offers an all-inclusive option if that's more your style.
The list of amenities and services includes almost anything you can think of from table tennis and a game room to yoga and a sea front paved pathway.
You can even spend time right outside the hotel at the driving range and golf course or enjoy water sports like scuba diving and windsurfing.
This hotel is great for families with kids of all ages. There's a baby creche, kids club, and a teens night club to help keep the young ones happy.
There's also a large lagoon swimming pool, an indoor pool with a waterfall, a baby pool, and a children's playground.
For the adult traveler, there's a swim-up bar, luxurious spa, and multiple adults-only areas.
You can escape to the adults-only pool with hydro massage jets for some peace and quiet.
You'll love the adults-only entertainment and dining options as well. Everyone is happy at the Azia Resort and Spa!
 5. The Westin Dragonara Resort
St. Julian's, Malta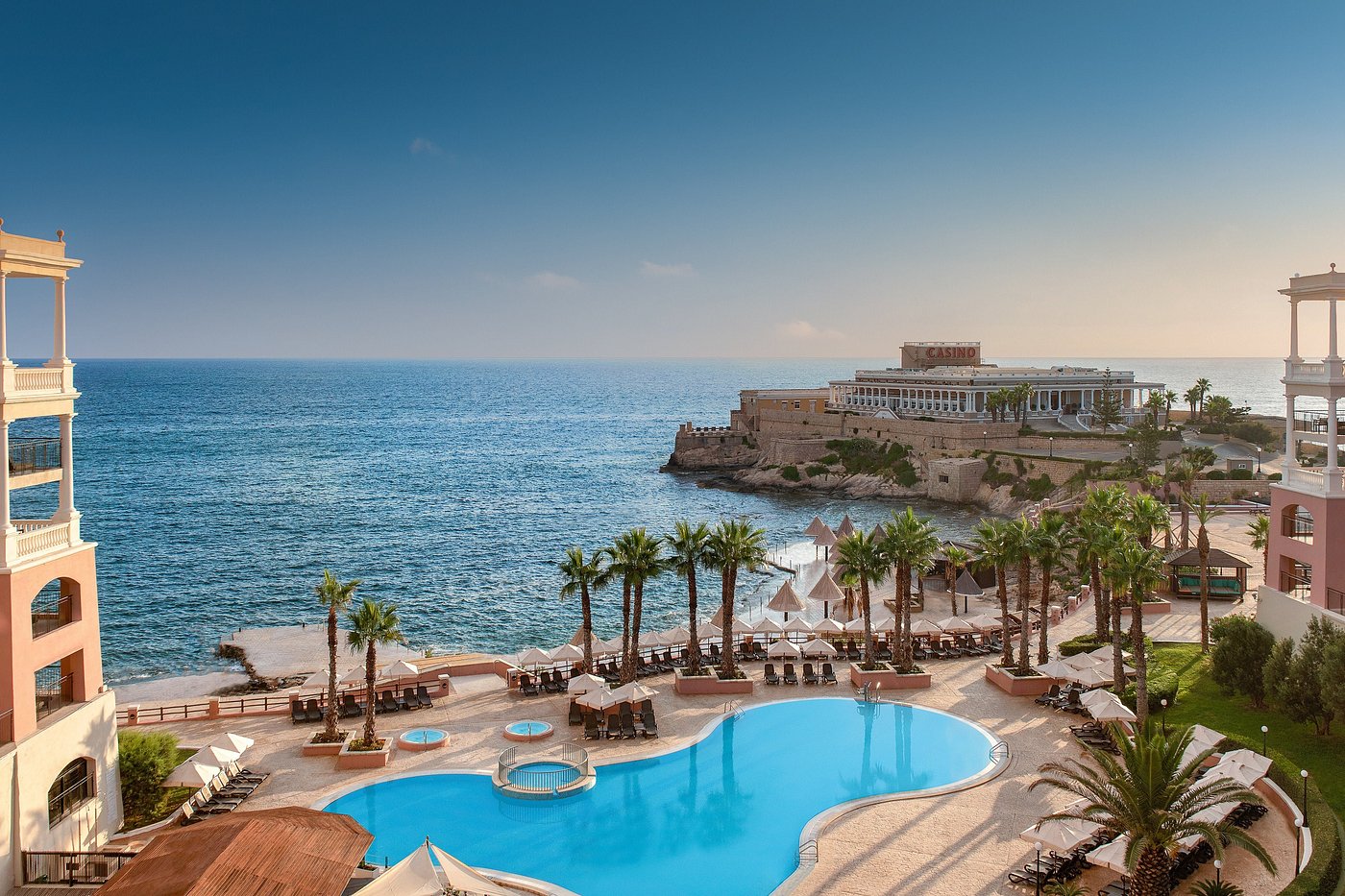 The Westin Dragonara Resort is located on its very own private peninsula right on the water's edge.
This beach resort has direct access to the mesmerizing Mediterranean Sea, as well as private beach access to two different sandy shores. It's your exclusive island getaway!
You can find a wide variety of amenities and activities to keep you occupied.
Enjoy rooms complete with international cable, satellite channels, Wi-Fi, air-conditioning, and a mini fridge.
Spend the day boating, kayaking, snorkeling, or sailing. You can also rent a bike and enjoy the beautiful biking trail around the resort!
This resort is great for families with children, no matter what age! Many rooms are spacious enough for large families.
There are multiple swimming pools and beach lidos, as well as two outdoor children's pools, one indoor heated pool, and a small sandy cove located within The Reef Club.
There's also the Westin Family Kids Club with activities and an entertainment program to keep the kiddos happy and occupied while the parents can breathe easy.
You'll never go hungry with multiple fine dining options, lounges, piano bars, and 24-hour room service.
There are also kids' menu options for those with younger guests, so the whole family will be happy. Breakfast, lunch, and dinner- you can enjoy some of the best cuisine Malta has to offer!
The Westin Dragonara Resort is truly a luxurious (and family-friendly) paradise!
6. Mitsis Alila Resort & Spa
Faliraki, Greece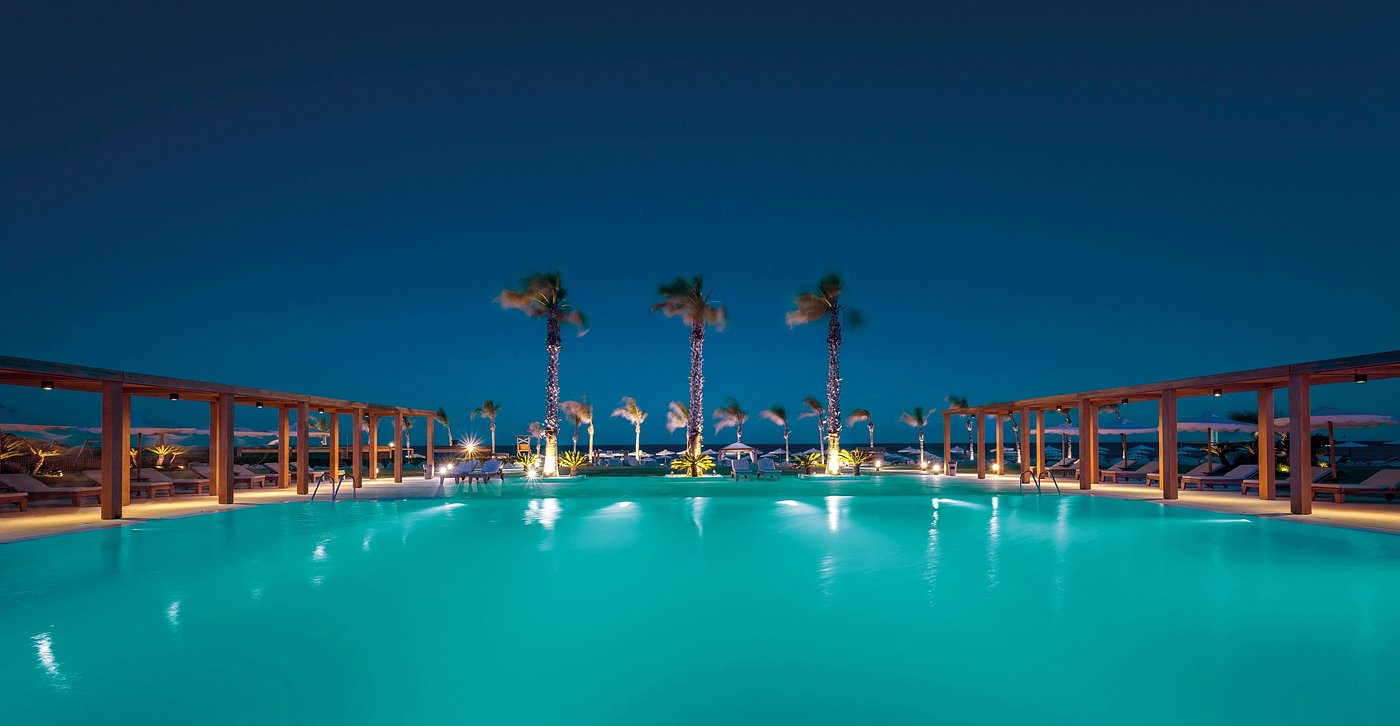 The Alila Resort and Spa is a beautiful all-inclusive beach resort on the island of Rhodes, Greece.
This getaway destination is the perfect spot for families who want to enjoy a luxurious vacation, while also being offered tons of amenities and facilities geared towards kids.
For the kids you'll find a swimming pool complete with waterslides, an outdoor playground, the Children Disco, and daily movies.
There's also a fun Mini Club with planned activities like arts and crafts. for the children. Teens will love the game room, outdoor sports, table tennis, air hockey, escape room, and the play station corner.
Refresh your body and mind with yoga classes on the beach, tennis tournaments, water sports, swimming lessons, and so much more.
Read a book under a shady gazebo on the beach or treat yourself to a day of beauty and wellness at "My Spa." The possibilities are endless!
Mitsis resorts are well-known for their cuisine, from delicious breakfast buffets and lunchtime menus to romantic dinners overlooking the ocean. You'll savor every bite at the Alila Resort & Spa.
7. Grand Palladium White Island Resort & Spa
Ibiza, Spain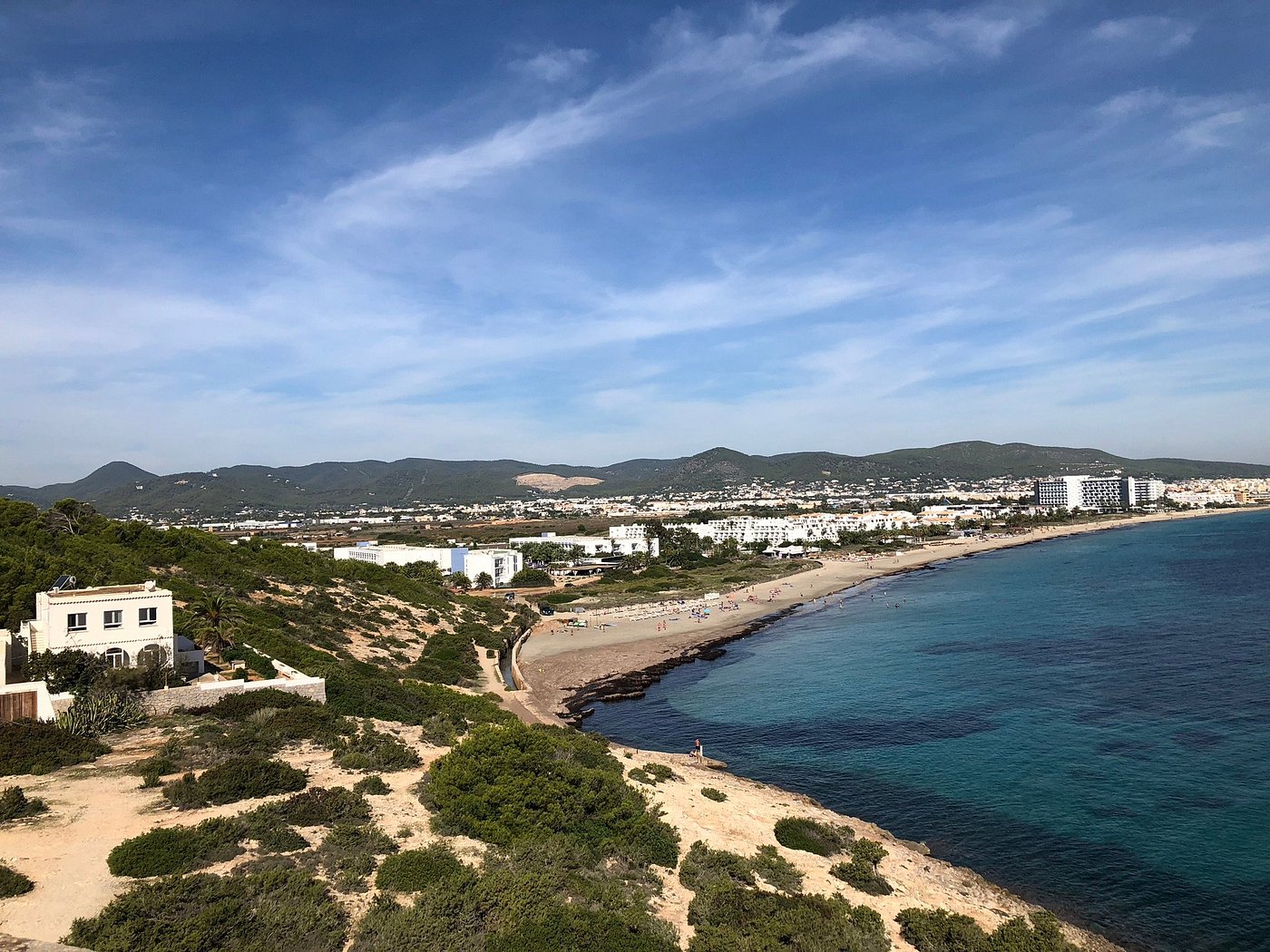 The Grand Palladium White Island Resort and Spa is more than just a place to rest your head.
It's an experience! This is the perfect resort for families and couples with their freshwater swimming pools, modern facilities, restaurants, bars, entertainment, and more. When you stay here, it's like receiving the royal treatment!
Looking for somewhere that will fill everyone's check list? This resort caters to babies, kids, teens, and adults!
There's the Babyclub for babies 6 months and older, the Miniclub for children, and the Junior Club for teenagers. Each one has age-specific entertainment services and environments, as well as five-star care.
For the adults, there's the spectacular Zentropia Spa, massages available in the pool, a Sports Bar, and actual sports like football, archery, and a paddle surf excursion.
If you're really into feeling like royalty throughout your stay, be sure to check out the Infinite Indulgence service for an outstanding all-inclusive experience.
Everyone will love the dining options, including 3 themed restaurants, a buffet with a cooking show, and 4 bars complete with plenty of tasty snacks.
Get ready to enjoy dessert for breakfast and taco Tuesday every day!
8. Sani Beach
Halkidiki, Greece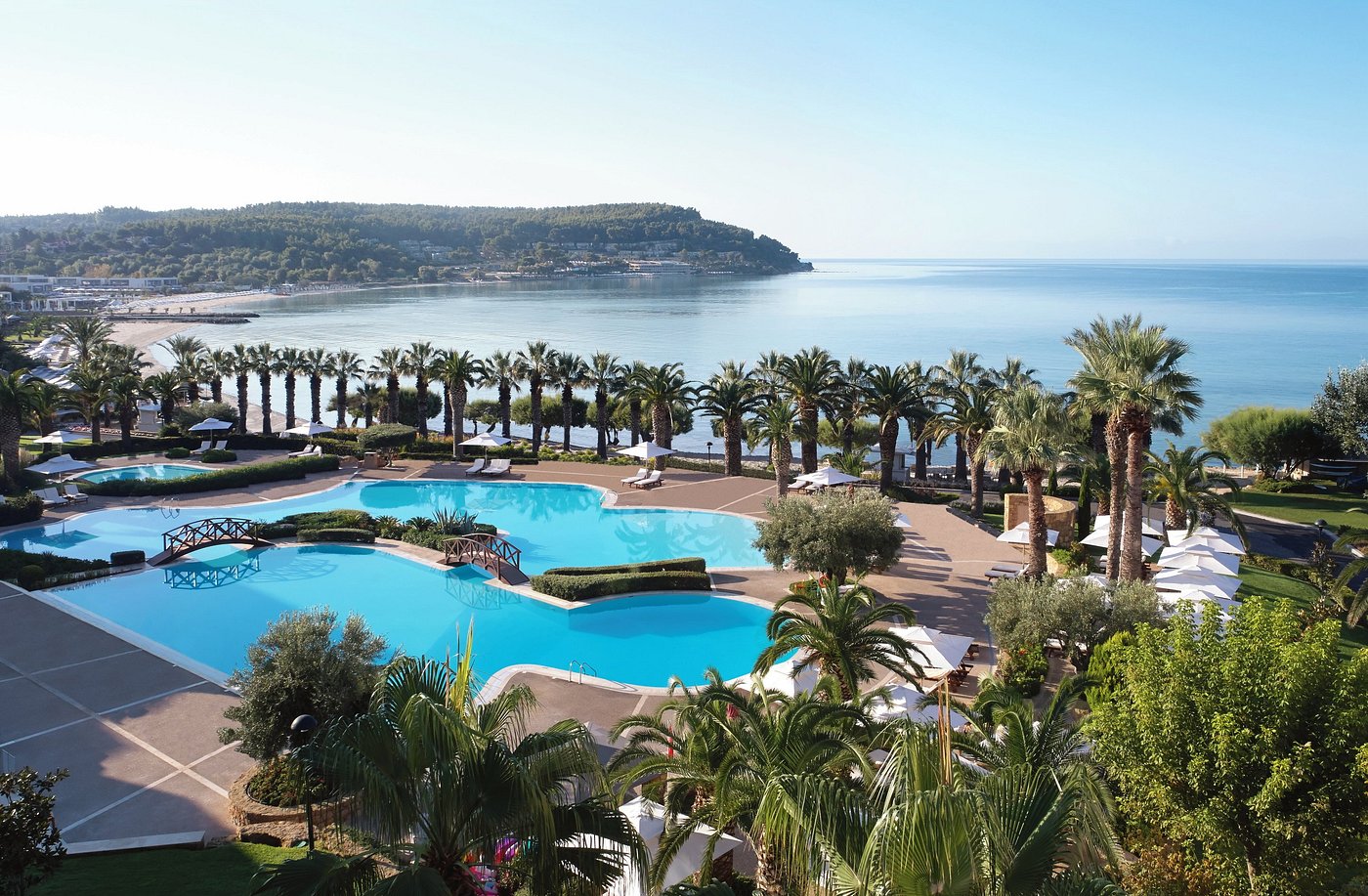 Sani Beach promises an unforgettable beach vacation experience for the entire family.
The resort is located in a stunning postcard-worthy setting, just steps away from the water and an endless expanse of golden sand.
There's plenty for hotel guests to do like waterskiing and parasailing. If water sports aren't your cup of tea, you can pay a visit to the bird sanctuary, relax on a lovely sunset cruise, or dance the night away at a beach party.
The Garden Theatre also offers live music, dance, and other entertainment throughout the week.
Spend the day sunbathing on the beautiful beach or take a dip in the spacious lagoon-style swimming pool.
Try a taste of everything at the many buffets and a la carte menus.
Book a facial and a massage at the resort spa. There's a little bit of everything for everyone at the breathtaking Sani Beach Resort!
9. Aydinbey King's Palace & Spa
Manavgat, Turkey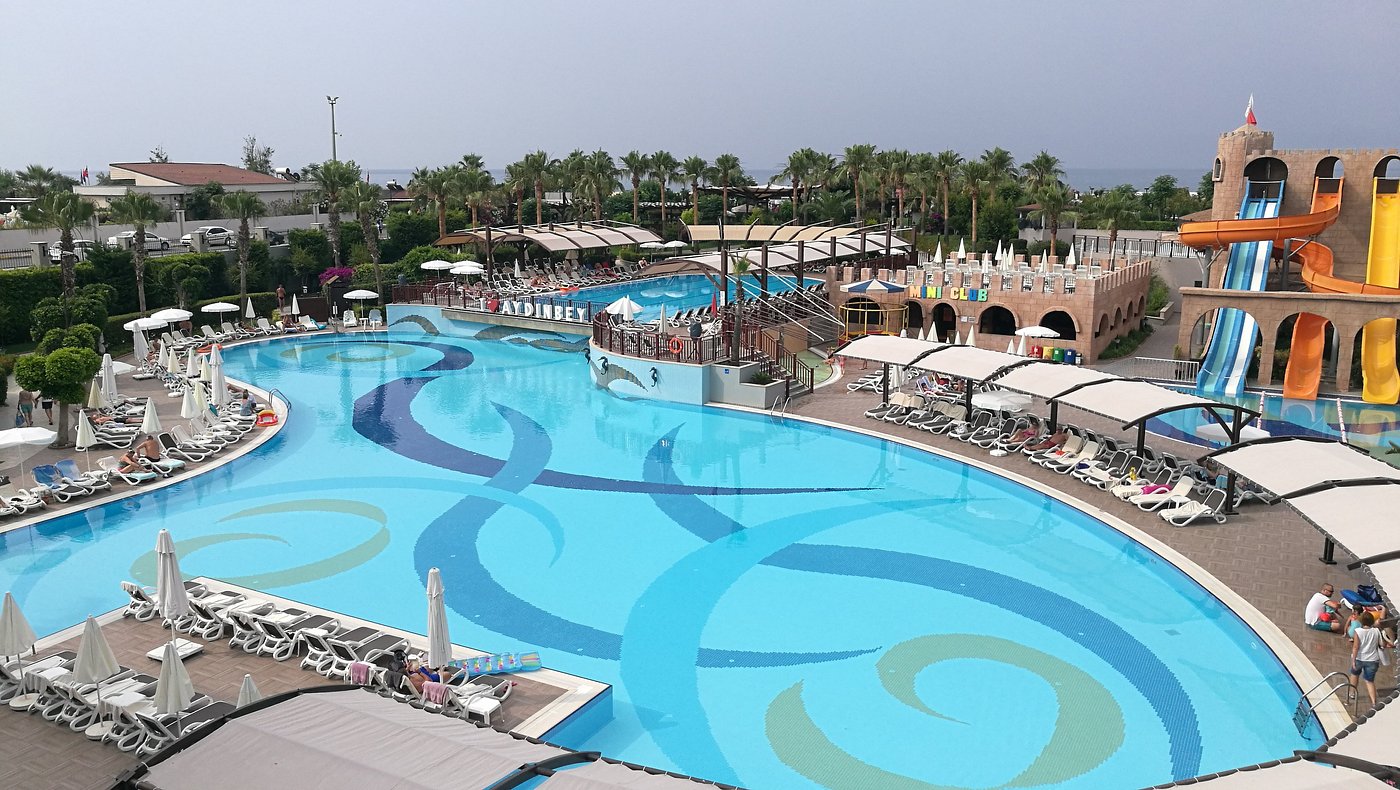 Aydinbey King's Palace & Spa is a beautiful resort nestled on the aqua-blue waters of the Mediterranean.
This picturesque Turkish destination provides an authentic experience for visitors from all over the world.
It features spacious rooms with stunning garden or sea views, three outdoor swimming pools (one specially designed for kids), and plenty of amazing amenities to make your stay a pleasant one.
If you're a water-lover or have water-loving kids, this resort comes complete with a giant waterslide and plenty of lounge chairs for hanging out under the sun.
This location is great for kids and families, especially with its outdoor play equipment, a fun indoor play area, and an endless supply of board games, books, and movies!
Adults will love the Turkish cuisine, as well as other international dishes, which can be delivered to your room or enjoyed on the beautiful rooftop terrace.
If desired, you can also choose to experience your delicious meal right on the beach! End the day with a relaxing time spent in a Turkish bath and sauna or hot tub.
It's the perfect recipe for an unforgettable vacation experience!
Your European Vacation Destination Awaits!
With this list of 9 of the best resorts found throughout Europe, we're sure you're ready to scratch that travel itch!
What are you waiting for? Whether you book now or later- happy travels from Destinations Travel Guide!