Bermuda is best known for its beautiful pink sand beaches and warm, crystal blue water.
This tiny island has a lot to offer when it comes to resorts. There are many Bermuda resorts that can accommodate any type of traveler's needs;
from couples looking for an intimate resort experience, families with kids who need more space in their room or amenities geared towards kids, groups of friends or business travelers looking for conference facilities and activities on site.
Here are the best 7 Bermuda resorts you should consider if you're planning your next vacation!
Want to stay in the states next time, try Florida Resorts for all ages.
1. Fairmont Hamilton
Fairmont Hamilton is best for families with kids. This resort has a lot of activities geared towards children – from horseback riding to sailing, the little ones are never bored!
There's also plenty of space in the rooms and suites so parents can enjoy some alone time when they need it most.
Fairmont Hamilton offers both an all-inclusive option or guests may choose to dine at one of many great restaurants on property like Bistro West End Kitchen & Bar which serves up delicious Mediterranean dishes made fresh daily right down the street from the hotel or Casual Dining Lobster Pot where you'll find seafood favorites any day of the week including lobster grilled over charcoal as well as local fish and vegetables cooked by Executive Chef Jules Emile
You don't have to worry about trudging through sand to get to the ocean because Fairmont Hamilton is so close to the water.
Enjoy watching the waves crash and the boats sailing in the marina. Travelers love the opportunity to explore the ocean by taking a boat ride.
This resort also boasts tons of amenities and classes.
You can enjoy fitness classes such as yoga, pilates, or Barre
2. Newstead Belmont Hills
This is a smaller more intimate resort than the others on this list.
The best part is you have a chance to get away from it all and enjoy some peace and quiet, but there are still contemporary touches around including an infinity pool with panoramic views of Hamilton Harbor.
Families looking for something more intimate, laid-back or authentically Bermudian will love Newstead Belmont Hills!
This resort has family villas that can sleep up to eight people in one bedroom suites complete with kitchens so parents don't need to worry about packing as much food when they come here!
Newstead also features two pools – perfect for kids who want their own space – plus a children's water play area where kids of all ages can splash around under supervision.
Your resort search can end here!
Newstead Belmont Hills is a hotel you will definitely want to explore and experience!
3. Bermuda's All-Inclusive Resort
When you book here, expect breakfast, lunch, and dinner to not only be extravagant, but also completely included in your cost.
This resort will make you feel like royalty!
The best part is that there are so many different restaurants to choose from, and your room rate includes everything.
Book this one if you're looking for something more extravagant or want a full experience with amazing food.
Not only do they offer the best all-inclusive resort in Bermuda but their full service spa and fitness center rivals any other on the island as well!
With its vast menu of activities – including snorkeling, fishing, scuba diving lessons, kayaking trips, hiking trails and horseback riding adventures – it's easy to stay fit while traveling here too!
You'll never get bored when exploring Newstead Belmont Hills Resort. This resort has family
4. The Reefs
This option is great if you're looking for romance and phenomenal local cuisine.
The best part of staying here is being able to experience a bit of everything, from the best beaches on the island to great shopping and food options.
The Reefs also offers one-of-a-kind activities like kayaking, paddle boarding, fishing trips and more for guests.
With the ocean so close the opportunities are endless.
They offer 19 different restaurants in total at this resort – so you'll never be bored!
Their full service spa boasts an amazing hydrotherapy pool with jets that will invigorate your senses while their fitness center has every type of workout machine imaginable including weights machines and cardio equipment.
There's no need to ever leave The Reefs when visiting Bermuda because everything you would want or need in life is right there waiting inside its gates.
It truly is one of Bermudas grandest resorts!
5. Rosedon Hotel
If you are really looking to experience the Bermudian lifestyle, look no further than the Rosedon Hotel.
This is an inn that has been in operation for 300 years and it shows its age with beautiful buildings, lush courtyards of greenery and flowers as well as a gorgeous view.
The best part about this resort are all the activities they have to offer such as kayaking, biking or exploring some other type of nature on their 12 acres!
You will also get a real taste of Bermuda with their locally grown and organic vegetables and fruits grown on-site.
You can also take a walk to Bermudas most famous street, Front Street, for shopping and exploring.
If you're really looking for a true authentic and timeless destination The Rosedon Hotel is a must! This hotel beats all other hotels!
6. Cambridge Beaches Resort and Spa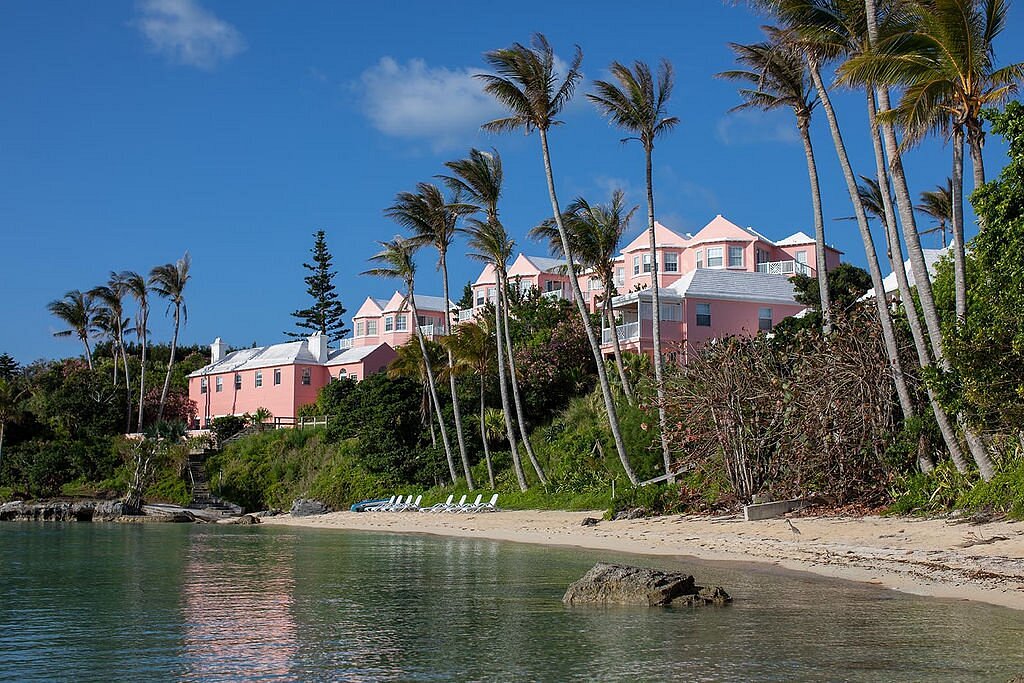 This is the place for all you honeymooners looking for a luxury resort!
Enjoy a romantic stay at Cambridge Resort and Spa. Although smaller than some of the other resorts this is a true best resort for couples.
All their rooms are beachfront with amazing views of the ocean and surrounding islands!
You are your significant other will enjoy a trip to the spa, or even just a walk through the perfectly trimmed gardens at Cambridge Beaches and Resort Spa.
Cambridge Beaches boasts three luxurious dining venues, but if you and your loved one prefer to be alone, you can also arrange for a private dining location as well.
Enjoy amazing onsite, private cuisine for breakfast, lunch, and dinner.
If you're looking for an intimate destination, a Cambridge Beach Cottage is just what you need.
Take advantage of your own cottage on the beach, right by the water. Each cottage has its on charm and character.
You will love experiencing Bermuda at this tradition filled Bermuda Resort.
7. Rosewood Tucker's Point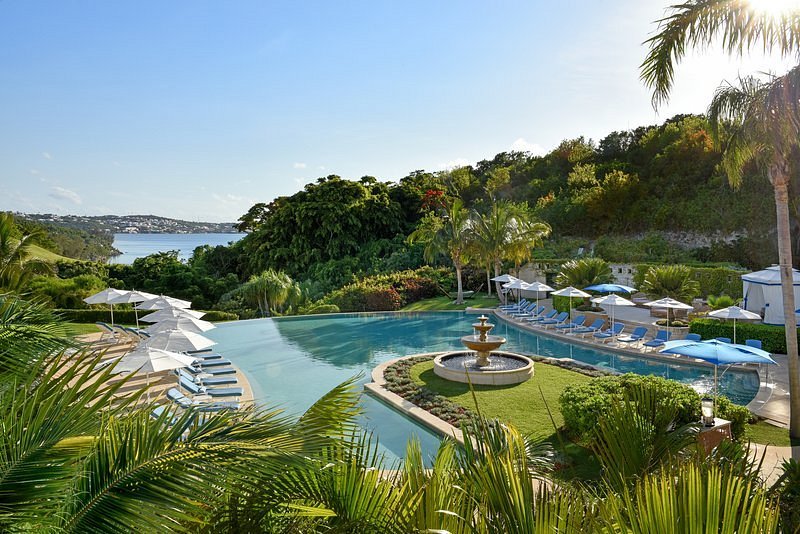 Located on Bermudas largest beach, Rosewood Tucker's Point is sure to be a hit for the entire family.
The best thing about this resort is the location, as it's close to some of Bermudas best attractions and most famous beaches like Elbow Beach.
If you are looking for a luxury hotel in Bermuda, with unmatched service, that has something for everyone then Rosewood Tucker's Point should definitely be at the top of your destination list!
The resort features three beautiful restaurants including Compass Point Grille with delicious Italian cuisine, restaurant Destination One with fresh seafood dishes, and lively bar Brick Bay Pub where guests can enjoy live music on Friday evenings or Sunday afternoons.
So if you're an adventurous foodie who enjoys dining out while on vacation then this is one place not to miss during your stay in Bermuda!
Now is the time to book an unforgettable trip! 
Try another adventure, Destinations Travel Guide has you covered.