Acadia National Park is the perfect camping destination for those who want to escape the noise of the city!
This national park haven is located along the coast of Maine and boasts breathtaking views of towering trees and jagged coastlines. 
Surrounded by the sights and sounds of nature, Acadia National Park offers many different types of outdoor activities to enjoy- from biking and hiking to kayaking and boating.
Another popular activity loved by many is camping!
(If you're looking to add another stunning national park to your camping bucket list, check out these 14 best places to camp in Glacier National Park!)
Acadia National Park has 4 main campgrounds: Schoodic Woods Campground, Blackwoods Campground, Seawall Campground, and Duck Harbor Campground.
There is also a horse campground, Wildwood Stables, that is specifically reserved for those looking to stable their horses and camp overnight.
Between these 5 campgrounds, there are over 600 different campsites to choose from. 
But that's not all- there are also plenty of other places to camp nearby with easy access to the park!
Each location offers a unique, nature-filled experience you won't forget!
Let's take a closer look at 10 of the best campgrounds tucked away in and nearby Acadia National Park! 
1. Schoodic Woods Campground
Looking for a campsite that's just a 15-minute walk from the ocean?
Schoodic Woods Campground is located on the scenic Schoodic Peninsula and all the campsites are within a short walk from the water! 
Schoodic Woods Campground sits about 1.5 miles southeast of Winter Harbor and a 60-70 minute drive from Bar Harbor.
The campground itself offers over 200 wooded campsites for both tent and RV camping. Amenities include flush toilets, fire rings, and picnic tables. 
Schoodic Woods Campground is popular for camping among many because of the beach access!
There are several other highlights of this popular Acadia National Park campground as well.
You can see dreamy lighthouses, flocking seabirds, and wander through forests.
Head to the Schoodic Beach area and you'll find popular activities like swimming, surfing, fishing, clamming and more.
You can also visit Shoodic Point to catch spectacular views of Mount Desert Island.
The Schoodic Woods Campground makes an excellent basecamp if you decide to explore the Schoodic Peninsula of Acadia National Park.
There are miles and miles of beautiful hiking and biking trails to enjoy!
2. Blackwoods Campground
The tree lined Blackwoods Campground is one of the most popular campgrounds in Acadia National Park and has the greatest number of campsites available at 306.
It's also quite possible that it gets its popularity among many avid campers because of its perfect location near the town of Bar Harbor! 
Located about 6 miles south of Bar Harbor, Blackwoods Campground is conveniently situated close to many restaurants, shops, and outdoor activities.
This also includes museums, various tours, whale watching expeditions, and trips out to nearby Isle au Haut! 
Blackwoods Campground offers mostly tent camping spots, but some sites can accommodate campers traveling with an RV.
At the campground you'll find running water and flush toilets, as well as a fire ring and picnic table available for use at each campsite.
Showers are available just a half mile from Blackwoods Campground.
While you're camping here, you'll enjoy stunning mountain hikes, peaceful walks along the rugged coastline, tree lined biking paths, and shimmering lakes perfect for canoeing and kayaking.
You can also take a ride down the historic loop road, which offers 27 miles of breathtaking views.
It's the perfect spot for travelers to take in the beauty of the ocean shoreline, mountain silhouettes, and coastal forests! 
3. Seawall Campground
The stunning Seawall Campground is located near Southwest Harbor in Acadia National Park.
This campground sits on the west side of Mount Desert Island, also known as the "quiet side" of the island.
It's named for the natural seawall found nearby and is a short 10-minute stroll from the ocean. 
Seawall Campground is a family-friendly campground, built to fit small and large tents rather than RVs and trailers.
It features 214 available campsites with fire rings and a picnic table for each one.
You'll find flush toilets and running water at this campground.
You'll also need to make reservations to spend the night here, but it's more than worth it!
This camping spot offers some of the most remote and unique areas of the park, including many crystal lakes and quiet hiking trails.
If you're a water bug, Echo Lake is a great place to spend the day fishing, swimming, kayaking, canoeing, or having a picnic by the water.
You'll love exploring the unparalleled views along the coast of Maine!
While in Acadia National Park, you can see lakes, streams, wetlands, mountains, forests, meadows, and beaches.
Talk about a diverse landscape! So, if you're looking for campsites tucked away among the trees and within steps of a sparkling ocean shoreline, then this is the place for you! 
4. Duck Harbor Campground
Duck Harbor Campground offers a rugged camping experience and is loved among Acadia National Park campers for two big reasons!
Firstly, the campground offers a quiet setting away from some of the more crowded spots in the national park.
Secondly, it offers gorgeous views and easy access to the open water!
Because of its location on Isle au Haut, you can only reach Duck Harbor Campground by a passenger-only ferry.
The ferry only operates on a first-come, first-served basis, so keep that in mind and plan to get there early!
You'll find 5 primitive campsites at Duck Harbor Campground, each one complete with lean-to wooden shelters, a picnic table, and fire ring.
A composting toilet is available as well.
If roughing it in the wilderness is more of your camping style, then this could be your new favorite spot!
Isle au Haut is a great choice if you're looking for an epic place to go birding!
From dawn until dusk, you can explore the island and watch for birds among the spruce-fir forests.
You'll find songbirds, shorebirds, and terns throughout your stay. Don't forget your binoculars and camera to help make your birding experience a memorable one! 
5. Wildwood Stables Campground
Wildwood Stables Campground is great if you have an equine friend that you'd like to bring camping with you!
These 10 campsites are reserved for those looking to camp and stable their horses overnight.
It's the perfect place for horse campers to set up a tent and enjoy the scenery of Acadia National Park. 
The nature-rich area nearby features trails through forests and meadows for you to explore.
If you're looking for gorgeous ocean views or miles of trails where you can see the wildlife in their natural habitat, then you'll love it here!
This campground offers primitive camping with horse stalls to rent.
You can bring your RV if you'd like and there are flush toilets available as well.
You'll be camping about a half-mile south of the Jordan Pond House full-service restaurant, where you can enjoy a delicious hot lunch or dinner.
Nearby activities include carriage rides through the park offered by Wildwood Stables, the Jordan Pond Nature Trail, and an easy hike up Day Mountain with amazing views of the Cranberry Isles! 
6. Hadley's Point Campground
Hadley's Point Campground is located in Bar Harbor, Maine and is only 4 miles from the entrance to Acadia National Park.
This campground offers a more modern camping experience, with a heated swimming pool open during the summer months and Wi-Fi internet access. 
The campground offers many different grassy and wooded sites to choose from.
After a rewarding hike in the national park, there's a saltwater beach here you can relax on as well.
If you don't want to pitch a tent this time around, you can also upgrade your stay to a wood-frame cabin.
You'll be more than comfortable while staying at this white pine haven.
If you do choose to stay at Hadley's Point Campground, you'll be close to downtown Bar Harbor, art galleries, bakeries, wineries, and restaurants.
You can also enjoy a variety of outdoor recreation opportunities such as fishing, paddle boarding, bicycle paths, nature trails, hiking, whale watching, and boat tours!
Plus, anything else available to do in Acadia National Park since it's so close 
7. Mount Desert Campground
Mount Desert Campground is a scenic camping spot with many unique features.
Visitors and avid campers alike love the location of this popular campground in the heart of Mount Desert Island!
It's within walking distance to Acadia National Park, as well as many nature and hiking trails.
It also has easy access to the water where you can enjoy a refreshing morning kayak ride.
Located at the head of Somes Sound and just 8 miles from Bar Harbor, there's plenty to do at this wooded campground.
Enjoy a quiet afternoon of birding and wildlife watching, listening to the upbeat tune of the songbirds.
Hop on a boat or canoe to explore Somes Sound or pack your hiking gear to adventure along the mountain trails.
You can also enjoy biking on over 50 miles of carriage roads or rock climbing in the landscape of Acadia.
Whatever you decide to do, you can rest easy knowing that once you return back to camp, you'll have access to running water and a hot shower!
8. Smuggler's Den Campground
Let the kids have a blast at this family-owned campground nestled in the woods near Mount Desert Island and Acadia National Park!
There are more than 100 sites available and all types of camping are welcome- tents, pop-ups, RVs, and campers.
There are also cabin rentals available if that's more your style!
You and your family can enjoy a fun stay here with plenty of shaded and sunny areas to play in.
You can also splash around in the heated pool and kiddie pool, then rinse off in a free hot shower afterwards. 
Not only is this campground close to Acadia National Park, but it's also nearby Echo Lake Beach and Sand Beach!
You can take it easy after an early morning of exploring the park and let the sand squish between your wiggly toes.
9. Quietside Campground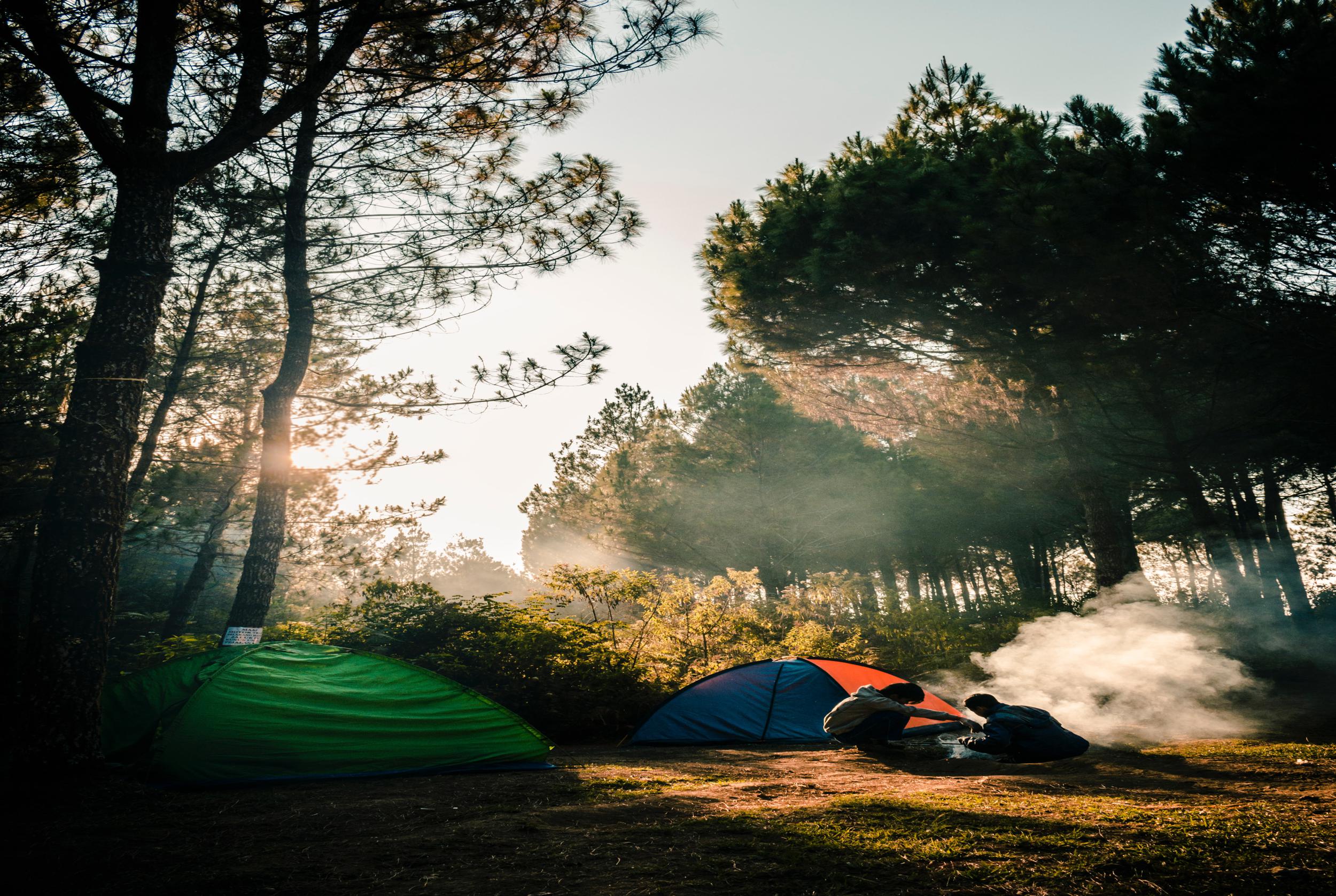 Quietside Campground features 35 campsites in a quiet, wooded area of Tremont, Maine.
Here you'll find a variety of sites, from tent sites with tent platforms to log cabins and a Hobbit Hut.
There are also sites with electricity and water hookups available for small RVs or pop-ups.
At this campground, you'll find less crowds and more solitude.
So, if you're looking to find some peace and quiet among the scenery of Mount Desert Island and Acadia National Park, this could be the perfect place for you.
Each campsite comes with its own picnic table and fire ring, making it great for those who want to relax and tell stories by the campfire.
You can also explore the surrounding fishing villages for an authentic Maine experience.
With this location, you can finally unplug and enjoy the "Quietside" near Acadia. 
10. Bar Harbor Campground
This family-owned campground boasts camping with a view!
Bar Harbor Campground is the closest campground you'll find to Bar Harbor and Acadia National Park.
There are many campsites to choose from, but this campground doesn't take advanced reservations.
In fact, they want you to pick the campsite that suits you best by seeing it for yourself! 
You can find a site that fits your style among many different options: tent sites, non-electric sites, electric and water hook-ups, and more.
From the tiniest tent to the largest RV, you'll be covered at Bar Harbor Campground. 
You'll have access to amenities such as clean bathrooms, hot showers, a heated pool, and a free shuttle service around the area.
Not only can you explore the stunning scenery of Acadia National Park, but you can also get your fill of tasty lobster and fresh seafood at nearby restaurants!
You'll love the ocean views so much, you might never want to leave!
Get Out and Explore Acadia National Park
If you're hoping to explore Acadia National Park and enjoy all that it has to offer, it's going to take you more than a day or two.
Luckily, there are plenty of excellent campgrounds in and near the park.
Whether you're looking for a shaded spot near the ocean or a quiet area in the woods with running water and hot showers available, these 10 amazing campgrounds should have what you need! 
When you're ready to explore another must-see location, be sure to check out Destinations Travel Guide for more ideas! Happy camping!