Looking for the ultimate vacation destination that's suitable for the whole family? How about 10 of them! Everyone knows how overwhelming planning the perfect family vacation can be, but we've got you covered.
Here is a list of the 10 best all-inclusive resorts located throughout the world, perfect for first timers and families alike.
Maybe your family is a little older and you need the best all inclusive resorts for teens suggestions?
Each one offers a unique experience, along with a variety of activities and amenities for all ages.
Find out what to expect and how to make the most out of your next getaway- let's check them out!
1. Franklyn D. Resort & Spa
Jamaica
Choose the Franklyn D. Resort & Spa in Jamaica for a relaxing and exciting all-inclusive family vacation.
This resort is the perfect getaway for both kids and adults. The kids will love that there are three pools they can choose from, a monster 100-foot waterslide, and two kid-friendly restaurants. If your family loved this resort then don't miss out on Cancun All Inclusive Family Resort.
Adults can enjoy two different adults-only restaurants, as well as the resort's available nanny services for a well-deserved break. With a fun kids club for the younger ones and a variety of adult activities, you won't find any parent guilt at this family-friendly vacation spot!
 2. Crystal Cove by Elegant Hotels
Barbados
Spend time exploring the fresh air with an outdoor swimming pool, snorkeling adventures, tennis, and a children's playground.
The all-inclusive resort offers a maze of activities for your wee ones in the fabulous kids' club. And don't forget to take some time for relaxing with your significant other–bonding time doesn't require any children!
These delightful experiences aside, you're sure to have an awesome vacation with the wide variety of accommodations and amenities, mouthwatering food, and Bajan hospitality.
3. Santa Barbara Beach & Golf Resort 
Curacao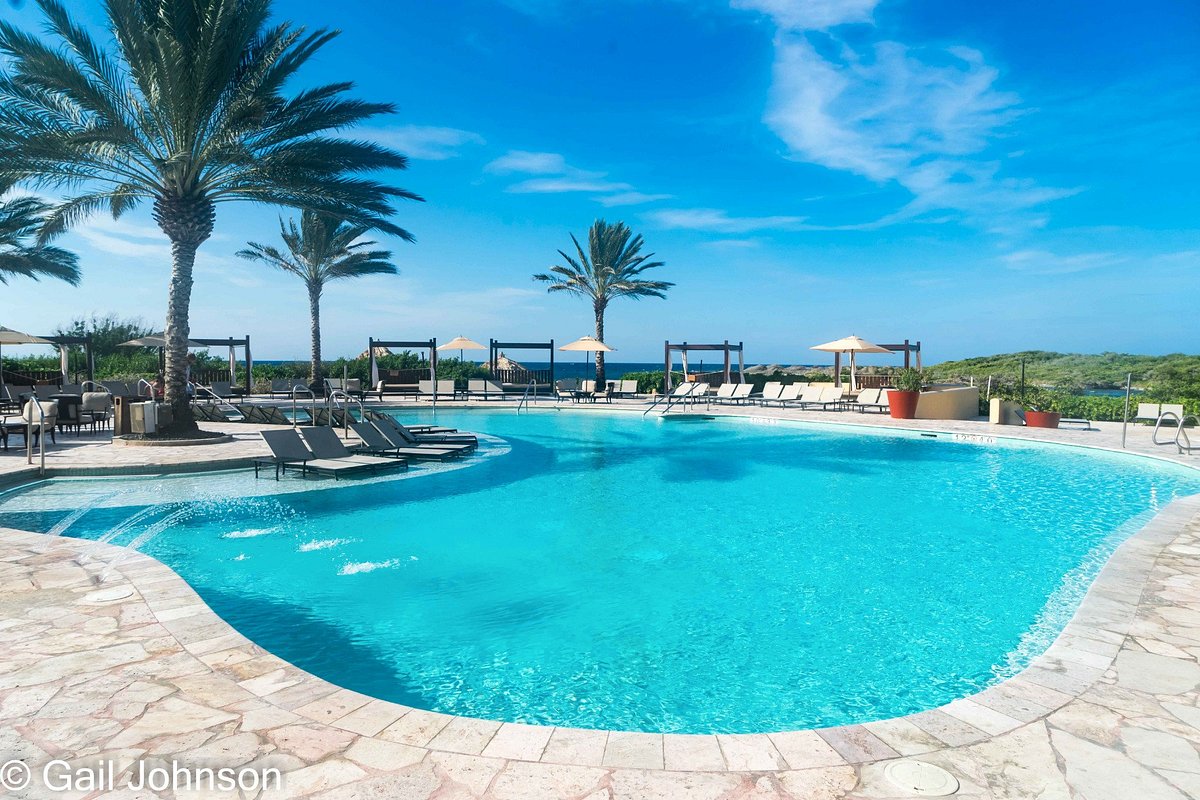 The all-inclusive package offered by the Santa Barbara Beach & Golf Resort in Curacao is sure to transform an ordinary trip into a fun and memory-filled vacation.
Begin your getaway with a guided hike through nature or an exciting mountain bike tour, followed by an iguana feeding session for the kids.
Melt your stress away and free your mind with some yoga, followed by a tasty tour of the local food.
Sit back and embrace your lazy side while sipping an ice-cold beverage and relaxing on the pristine white sandy beaches.
Get your fill of thrills with jet skiing, scuba diving and kayaking tours, then kiss the successful day goodbye with a romantic sunset stroll alongside your partner.
Whether your family is big or small, this all-inclusive resort will leave you with a lifetime of memories!
4. Labranda Targa Club Aqua Park
Marrakech
Soak in one of the four swimming pools or explore the onsite water park, complete with four giant water slides.
Satisfy your taste buds buffet or a la carte style at one of the two restaurants or three bars.
Let the kids run free and enjoy a variety of planned activities at the Miniclub. They can also join in on a sandy game of beach volleyball or check out the nightly shows and games.
Explore Marrakech during the day, thanks to the complimentary shuttle service that transports guests from the resort to town. Parents and grandparents can also make use of the tennis courts and the onsite spa.
With complimentary shuttle services available throughout the day, adults love to get out and explore Marrakech, then return to the resort and take advantage of the tennis courts and onsite spa.
5. Coconut Bay Beach Resort
St. Lucia
Steer clear of small rooms, long lines, and crowded swimming pools on your next family vacation. The Coconut Bay Beach Resort in St. Lucia knows how to keep things fresh and fun.
Looking forward to filling your social media with unforgettable selfies and group photos? The splendid white sand and open ocean make the perfect backdrop for all your Instagram-worthy shots.
Spread over 50,000 square feet, the little ones will love the Cocoland Kids club, equipped with the largest water park on the island.
Spoil yourself with open access to the amenities and facilities offered in the all-inclusive package, as well as kitesurfing and other water activities.
Great food and tasty treats, adventurous activities under the sun, and incredible night entertainment is guaranteed to impress the whole family!
6. Nickelodeon Hotels & Resorts Punta Cana
Punta Cana
Your kiddos will squeal with delight when they receive a visit from characters like SpongeBob, Paw Patrol, Dora the Explorer, and the Teenage Mutant Ninja Turtles at Nickelodeon Hotels & Resorts Punta Cana.
Kids can enjoy jumping around the splash pads, floating the lazy river, and making slime at the DIY station. There's so much to do from character meet and greets to bubbling science experiments- the activities are endless.
Adults can quench their thirst at one of the three bars open at the resort or take the night off with a romantic date night at the adults-only restaurant, Kitchen 23.
Both kids and adults alike can have an ultimate pampering experience with a relaxing spa treatment. This truly is a dream vacation destination.
7. Allegro Cozumel
Cozumel
Spend the night with your family in a Polynesian-style bungalow and take in the breathtaking scenery all around.
With the nearby Palancar reef, this island destination is known for showing off its beautiful sea floor. Check out the Ultimate Dive Experience package for a truly unforgettable experience.
Booking an all-inclusive resort lets you enjoy the luxuries of vacation living without breaking the budget. Plus, at Allegro Cozumel, you won't have to compromise on quality just to save a little cash. You can have it all for a great deal.
For families with young children, there are packages built specifically for them and are filled with age-appropriate entertainment and activities. Combine fun and play with a variety of activities such as beach volleyball, tennis, and swimming in one of the resort's five beautiful swimming pools.
Replenish your physical and mental wellness by booking a relaxing massage and aroma therapy treatment at the resort's wellness zone. Prepare to emerge feeling fresh, fit, and fabulous- you won't regret it!
8. Grand Fiesta Americana Coral Beach
Cancun
Feast your eyes on the second-largest coral reef in the world at Grand Fiesta Americana Coral Beach in Cancun. The underwater views will surely leave a lasting impression for first timers and beyond.
Become one with the water and take a ride in the glass-bottomed boats for a sea view experience that you and your family can cherish forever.
The resort's diving program teaches divers of any skill level, so even if you are new to the water sport, you can easily convert the vacation into a learning experience that will benefit you for years to come.
Keep the young ones occupied at the Coral Kidz club, which offers a combination of virtual reality activities and conventional art to help your kiddos experience and explore new ideas.
9. Lapa Rios Ecolodge
Cabo Matapalo
Surround yourself with nature at this tropical rainforest location. Lapa Rios Ecolodge in Costa Rica offers an immersive outdoor experience that will have you feeling more at one with Mother Earth.
Enjoy the fresh fruit, sweet drinks, and open-air restaurant at the resort. Don't forget to book a waterfall luncheon for a memorable family experience as well.
Kids can embrace their wilderness explorer side by participating in wildlife talks and waterfall hikes.
Whether you're looking for a lesson in conservation or a more eco-friendly experience, this is the perfect location for appreciating nature and all it has to offer.
10. Paradisus Los Cabos
Los Cabos
You will find kid-friendly entertainment and events with most all-inclusive resort packages offered by luxury resorts, but the Paradisus Los Cabos is at the top of the game. This resort sets the bar extremely high by providing creative spaces for kids to imagine and play in, piñatas, a kid-friendly Mini Olympics, and exciting treasure hunts.
As for the hard-to-please teenage crowd, video game consoles and movie nights should do the trick. Even more, you can also try your hand at a game of giant chess or outdoor sports. Need other recommendations, try Destinations Travel Guide for your vacation information.
Parents can enjoy new experiences such as Latin dance classes, live music events, water sports, and themed parties. You definitely won't want to miss the Elvis Presley tribute.
Delicious food, fancy rooms, and overall great service- it's the perfect recipe for first timers and will make the best family vacation yet.