Zion national park is one of the most beautiful places on earth. With its towering red rocks, Zion provides a picturesque landscape that will leave you in awe.
Zion also offers many different things to do for visitors.
In this blog post, we'll be discussing 7 top things to do in Zion National Park!
If you're traveling with your family check out this list of 10 Best National Parks to Visit With Family.
1. Hit the Trails on a Day Hike
Zions National Park has hikes and trails for all skill levels and interests.
Zion offers a variety of hikes with varying lengths, difficulties, and scenery for you to explore.
Hikes are also rated by their difficulty level from easy to more difficult so it's easier than ever before to find the right hike for your skill set!
Zion National Park has an array of trails that will fit anyones taste or hiking preference: leisurely strolls through Zion Canyon (even on paved paths), short but sweet hikes in Zion Narrows, steep climbs up Angels Landing or Observation Point… the list goes on!
Hiking is one of the best ways to experience Zion because no matter what route you take you'll be blown away by its beauty along every step.
So if you're hoping to find a perfect picturesque view, one of Zion's beautiful hikes will do the trick!
Angels Landing and Observation Point are Zion National Parks most popular trails;
so if you're looking to hike Zion's most talked about hikes this is the place for you!
Zion Canyon is a great starting point just to get your feet wet with Zion.
The canyon offers some of Zion's best views and it can be completed in one day- but that will likely still leave you craving more Zion, which is why we recommend continuing on after completing Zion Canyon with an overnight backpacking excursion into Zion Narrows or even Angels Landing.
Angels Landing has been called by many as "the ultimate hiking experience."
It does not disappoint: from the beautiful panoramic views at its summit all the way down to stunningly unique rock formations.
The Zion Narrows stretch over 15 miles through Zion Canyon, from just outside the park's east entrance to the West Rim Trailhead near Mount Kinesava. The hike has been considered by some as "the world's most scenic hiking trail."
This backpacking excursion is for those who are looking for an adventure–those who want to get off the beaten path (literally) and experience nature at its finest: with refreshing waterfalls, lush greenery, turquoise pools of water that will
2. Drive the Zion-Mount Carmel Highway
Experience Zion at new heights with Zion-Mount Carmel Highway.
Zion Canyon is only one of many amazing sites you'll see on this beautiful drive, and the vista point at Angels Landing offers a completely different perspective than any other spot in Zion National Park.
Travelers are always wowed by the tunnel that goes for over a mile through the canyon, with Zion's famous red rocks on either side.
The road climbs up through the canyon, passing hikes along the way. At the end of the tunnel you will find more must-see trails and adventures.
There are camping options past the tunnel as well.
However, you will need to make arrangements if you're planning to take an RV. Traffic has to be stopped inside the tunnel because it is not wide enough.
This side of the canyon is different from that of the other side.
The temperatures are typically cooler and the landscape is scattered with pine trees.
3. Human History Museum
The Zion Human History Museum is one of the best museums in Zion National Park. Located on the east side of Zion Canyon, this museum tells visitors all about human history and culture through ancient artifacts, video presentations, and displays; including a complete collection from Native Americans who inhabited Zion for thousands of years before European settlers arrived or explorers migrated across America's westward trails.
There are also exhibits detailing how so many pioneers came to populate Zion Valley during its formative decades as well as when Mormon farmers settled there following Brigham Young's 1847 command that Latter-Day Saints should build their homes around Utah Lake.
The Human History museum is one of the stops on the shuttle.
There are also park rangers in the museum who are happy to answer all the travelers' questions and curiosities.
A video plays on a schedule throughout the day, giving guests an opportunity to have a visual learning experience.
4. Canyoneering and Rock Climbing
A Zion adventure is not complete without a bit of canyoneering and rock climbing.
Zion National Park also offers some great opportunities for this sort of thing, so grab your gear and get ready to go!
Canyons in Zion offer little water but plenty of obstacles which are perfect for those looking for an adrenaline rush or who just want to enjoy the solitude.
Rock climbers will find Zion's high peaks equally alluring with its many vertical walls that range from easy climbs to more difficult routes that require technical skill and equipment.
Climbing season runs year-round at Zion though snow makes it unsafe during winter months.
Climbing trips can be arranged and scheduled ahead of time.
Zion offers a great variety of routes, with much shorter and easier climbs for beginners.
5. Canyon Trail Rides
A great way to explore Zion in a different and adventurous way is horseback riding.
During the spring, summer, and fall months you can sign up for tours. This is a popular activity for families.
Tour slots fill up quick because this is a guest favorite! Be sure to reserve your time ahead of your trip so you don't miss out on this exhilarating ride!
There are one hour rides for beginners looking for a nice relaxing ride through some of the most beautiful areas of Zion.
If you are more advanced there are longer, more challenging rides available as well.
6. Explore the Sights along the Zion Canyon Scenic Drive
The Zion Canyon Scenic Drive is one of the most popular attractions in Zion National Park.
Within this drive you will be able to see such sights as the Court of the Patriarchs, Zion Mountain Ranch, and much more!
There are various hiking trails that are accessible from this route but some require a short hike up switchbacks or steps so it's recommended for those who want to get up close with nature without too great an effort.
If you're looking for something shorter try stopping by Weeping Rock Trail where water seeps out over a vertical cliff creating beautiful cascades below.
This trail also has plenty of other things to keep your kids entertained like rock scrambling and bouldering areas!
The Zion Canyon Scenic Drive is covered by the Park Shuttle.
The shuttle stops at all the major hikes and exciting adventure locations so it is great way to explore this part of the park.
7. Camping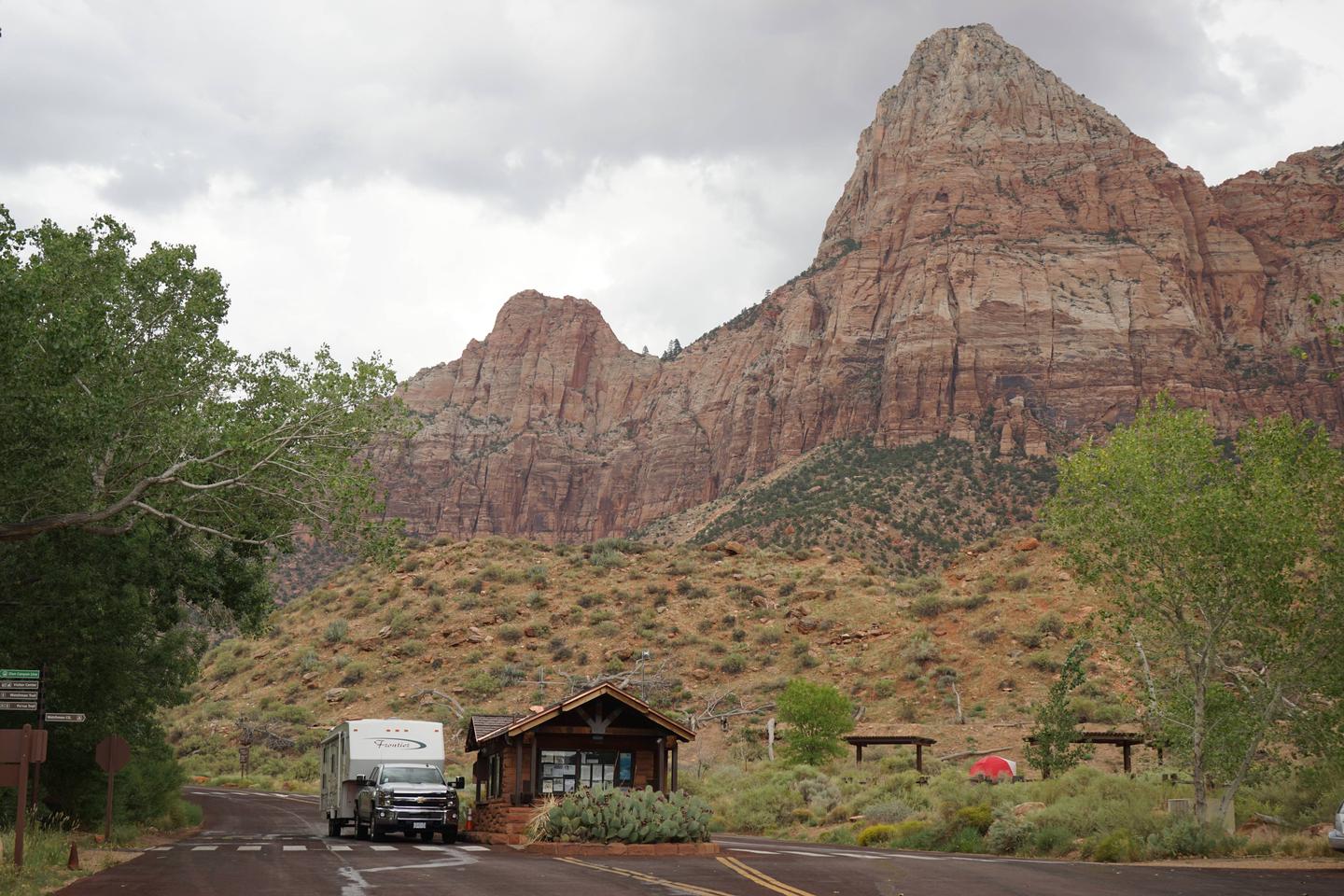 Seeing all the beauty Zion has to offer isn't enough! Staying a few days in Zion National Park is a great way to get some relaxation and explore Zion's many resources.
The park has two campgrounds: North Campground (open all year) and South Campground which only opens during the warmer months from Memorial Day through Labor Day.
North Campground camping location offers over 300 sites in an open meadow that are perfect for car camping or tenting with your family, friends, or group of any size!
There is also shade available under cottonwood trees if you prefer not to venture too far into the sun. If this isn't enough there are plenty of restrooms on site as well!
Located near scenic Zion Canyon Drive it provides easy access to hikes like Cable Mountain and Angel's Landing.
Watchman campground is also a great option for car camping or tenting.
It offers over 100 sites that are tucked away from the Zion Canyon and is a little more isolated which may be better suited to those who prefer a quieter atmosphere.
Once you've set up camp, it's time to start exploring Zion National Park!
Zion has two visitor centers located on either side of Zion National Park: The Kolob Visitors Center (east) and the Zion Canyon Visitor Center (west).
Both offer information about area hikes, points of interest along canyon walls, museums filled with artifacts about how people lived in this region long ago plus much more!
Whether hiking trails like Angel's Landing or taking scenic drives through Zion Valley – there is something for everyone at Zion National Park!
For more information on all your vacation needs visit Destinations Travel Guide!