Cozumel Mexico is full of natural wonders and adventure.
From the clear, turquoise waters to the stunning white sand beaches, it's easy to see why people love living in Cozumel or visiting this Mexican paradise.
With so many things to do in Cozumel there are a few must-do excursions and top attractions that you shouldn't miss when you visit Cozumel, Mexico!
If you are cruising to Cozumel, be sure to check out our list of 8 fun things to do on cruise vacations to help make all aspects of your vacation more enjoyable!
Maybe next time you want to venture on the other side of the world? Try 19 Best Places to Visit in Australia for you vacation destinations.
1. Snorkeling/Scuba Diving
One of the most popular attractions in Cozumel is snorkeling and scuba diving. The warm, clear waters and abundance of marine life make for an incredible experience.
There are many tours that offer a variety of things to do when you visit Cozumel – but if you're looking for something with as little fuss as possible, then renting your own mask and fins at one of the local shops is all it takes!
The Coral Reef in Cozumel Mexico is full of color and life, allowing divers and snorkelers to see many different species of marine life!
While some people prefer to dive down into the depths on their own adventure, more adventurous visitors may choose to take a guided tour or try freediving through a cavern like Cenote Angelita (a natural sinkhole filled with freshwater).
Snorkelers and scuba divers can expect to see both juvenile and adult fish, and depending on the time of day you visit there may be colorful urchins or sea turtles.
The likelihood that you'll see something is higher in the summer months, but winter snorkelers and divers can count on seeing a different variety of animals like manatees!
2. San Miguel
Located just a few miles from Cozumel City, San Miguel is the perfect place for travelers looking to escape the sun and take in some culture.
The tours are usually only an hour long so you can explore on your own or with the help of a guide who will show you around museums, churches, gardens and more!
Visitors often say that touring San Miguel was one of their favorite parts about visiting Cozumel – it's easy to see why when there are such incredible things to do in San Miguel like exploring ancient ruins at Chankanaab National Park (home to both underwater cenotes and spectacular flora) or taking part in traditional Cinco de Mayo celebrations which include dancing folkloric dancers, live music, and delicious Mexican food! Make sure to schedule a visit to San Miguel while your are on your vacation!
3. Glass Bottom Boat Tours
A great way to explore the island of Cozumel Mexico is by boat.
A glass bottom boat tour will allow you to see some incredible marine life like stingrays, dolphins and even manatees in their natural environment without disturbing them or needing to get in the water!
Glass bottom boats are both educational and relaxing – there's no better feeling than learning about the underwater world while sitting back with your feet up on a cool October day listening to waves crashing ashore!
There are some glass bottom boat tours you can book that will also include some snorkeling stops as well if you are interested in getting the best of both worlds!
If not, there are plenty of options where you can stay completely dry and still get to see some of the beauty that lies beneath the surface of the Cozumel ocean!
4. Chichen Itzá
Chichen Itzá is the most popular Mayan temple in all of Mexico and one of the best archaeological sites on Earth.
The ancient city was abandoned centuries ago and has since been overgrown with jungle plants , but that doesn't make it any less impressive!
The site features some incredible architecture including a massive pyramid called El Castillo which towers over everything else at 360 feet tall.
Visitors are also drawn to this area for its rich history – Chichen Itzá was once home to more than 100,000 people who worshipped an array (or different) deities from many cultures like Kukulkán or Chaac as well as Mayan gods like Ixchel and Yum Kaax .
What makes this temple even more impressive is its age. It was constructed around 600 AD!
The best time to visit the Chichen Itzá Mayan Ruins is during the dry season from November through April – this will give you a chance to explore everything it has to offer without getting stuck in any rainstorms, while also beating the summer heat!
If you're looking for an excursion that can be done at your own pace, then exploring these ruins on foot is perfect for you!
There are many tours that include transportation so all you need do is book your ticket and set off on your journey of discovery!
5. Zip Lining
Zip lining is a thrilling and exciting way to explore the natural beauty of Cozumel Mexico.
You'll be able to see some amazing views up close, as well as cool wildlife like sea turtles nesting on beaches or manatees swimming through the ocean!
There are many different companies where you can zip line in Cozumel but our favorite has got to be La Aurora Eco Park – with courses for all levels of zip liner experience, this place will have something for everyone!
The staff here is super friendly and they make sure each visitor feels safe before zipping away.. Plus visitors rave about how delicious their lunch buffet was afterwards!
If you want an excursion that fits your budget then it doesn't get much better than La Aurora Eco Park.
The prices are incredibly reasonable and the staff is kind, knowledgeable and always willing to help you with anything!
6. Nachi-Cocom Beach Club
Cruise ships often dock in Cozumel so if you're looking for a more luxurious way to explore the island, then Nachi-Cocom Beach Club is perfect!
This private beach club features all of the amenities that would come with any other spa or resort – like delicious food and drinks from their top notch kitchen, relaxed atmosphere, comfortable beds and even an infinity pool overlooking the blue ocean.
If you are looking for some relaxation before your cruise ship sets off again then this is definitely where you want to be!
Not only will they take care of every detail (like transportation) but they also have plenty on offer when it comes to leisure as well such as fitness classes and yoga sessions.
Nachi-Cocom Beach Club is a perfect spot for anyone looking to get some relaxing beach time in before their cruise ship sets off and it offers the best of both worlds – relaxation and luxury!
7. The Museum of the Island of Cozumel
The Museum of the Island of Cozumel is a great place to visit for anyone who wants to learn more about what it means to live on this part of Mexico.
This museum has been in existence since 1972 and features an array (or different) exhibitions that'll bring you back through the centuries as well as ancient pottery, relics, original maps and much more!
Visitors are often drawn here by its incredible history – The Museum of the Island of Cozumel was founded by Dr Ernesto Gómez Chaac.
He had such a deep love for his hometown and so wanted visitors from all over the world to come share how important this area is!
Visitors will find themselves immersed with artifacts and exhibitions that tell the story of Cozumel, its people and their culture – as well as a glimpse into what it means to live on this island.
The Museum of the Island of Cozumel is definitely worth checking out for both locals and visitors alike!
8. Playa del Carmen
Only a couple of hours away from Cozumel is the bustling city of Playa del Carmen.
Known for its incredible nightlife and amazing restaurants, this destination has something to offer everyone!
Whether you want to party hard with your friends or take it easy while exploring some beautiful ruins on foot – there's always an adventure waiting no matter what time of year you visit!
If you are looking for a place that offers both relaxation as well as excitement then we recommend checking out either Iberostar Grand Riviera Maya or Secrets Akumal Beach & Spa.
Both hotels have top notch amenities such as gorgeous beaches, luxury suites and delicious dining experiences.
But if partying until dawn is more your thing then Secrets Akumal Beach & Spa is the place for you!
Regardless of which hotel you choose to stay at, Playa del Carmen offers something for everyone and will be a great spot if you are looking to mix sun with some excellent nightlife!
9. Cozumel Bar Hoping
If you are looking to explore the local bar scene then Cozumel is one of the best places in Mexico for this type of activity!
It's not uncommon to come across a live band or singer while enjoying your drink at any of these bars and if that wasn't enough – there will always be plenty more locals than tourists.
Some popular spots include: – Punta Nizuc Bar & Grill, known for its huge servings, as well as delicious cocktails!
The staff are friendly and knowledgeable about what they offer which makes it an excellent spot for anyone who wants to enjoy some good food with their drinks.
– El Patio del Mar offers visitors both indoor seating (for those who want to escape the heat) and outdoor seating (for those who don't!).
El Pescador Bar is a great option if you are looking for something more laid back. With excellent views of both the sunset as well as mi Cozumel, it offers an experience like no other!
Cozumel bar hopping will offer visitors some unique opportunities that they won't find anywhere else in Mexico!
This includes live music performances on any given day alongside delicious local cocktails or food, and all the tequila tasting you could want – all while enjoying Cozumel from a new perspective!.
10. Xel-Ha
Xel-Ha is one of the most popular tourist attractions in mi Cozumel and has been named as a member of The Seven Natural Wonders of Mexico.
This incredible water park offers visitors endless possibilities for fun – from swimming at its heated lagoon to exploring amazing caves or diving into their famous white river!
There are also plenty more activities on offer such as kayaking, snorkeling, an aquarium, dining and much more!
Whether you want something active or relaxing – Xel-Ha can accommodate your needs.
With over 460 acres worth of space there's always room for everyone who visits here! It'll be an unforgettable experience that you won't forget in a hurry! 
11. Catamaran Tour
One of the most popular things to do in Cozumel is taking a Catamaran Tour.
With different tours on offer – some include snorkeling while others focus on fishing – it's easy for everyone who visits mi Cozumel to find something that suits their needs!.
The tour offers visitors an opportunity to explore mi Cozumel from a new perspective and will allow them to see many places they might not be able to reach by land!
It also provides plenty of opportunities for photos as well as unforgettable memories with friends or family members.
There are so many reasons why you should take part in this activity during your stay here, but we think one of the best ones is because it is a fun and relaxing way to enjoy Cozumel!
There are plenty of tour operators on Cozumel that offer this type of service – with prices for each one varying in order to suit all budgets.
Whether you want something quick or luxurious, there's definitely an option available for you! 
12. Jeep Tour
Jeep Tour Cozumel is a great option for those who want to explore Cozumel by land!
Many tours are on offer but one of the most popular ones that people enjoy is where visitors get an opportunity to drive through Cozumel and experience its beauty up close!
With over 700 miles worth of road, there's so much ground to cover here.
This tour will allow you to see many different parts of Cozumel at your own pace which means it can be done at any time during the day depending on what suits you best!
Jeep Tours Cozumel are also perfect for exploring specific areas like Chankanaab Park, Playa Palancar, mi Cozumel North or mi Cozumel South!.
This is a great opportunity to learn more about mi cozumel and see parts of it that you might not have seen otherwise!
With the help of an experienced guide who will provide facts throughout your journey, this tour offers visitors plenty of opportunities for excitement as well as relaxation.
Jeep Tours are perfect for those with limited time in mi Cozumel – but we'd also recommend them to anyone looking for something different during their stay!
13. Swim with Dolphins
With Cozumel being home to many different animals, it's no surprise that swimming with dolphins is one of the most popular things to do in this beautiful place!
The experience begins by meeting a dolphin trainer at the water and getting into their pool.
From there you will be taken out where they can introduce you to their wonderful friends!
There are many different packages you can purchase, and each package provides a different experience.
The more expensive packages will allow guests to hold the dolphins fins while the swim around, or stand on the dolphins noses and be pushed through the water.
The cheaper packages will still allow you to pet the dolphins and do a few different activities with them, but will probably be less hands on.
Swimming with dolphins is an unforgettable experience that the whole family will love!
If you are looking for a way to make life long memories while on your vacation, swimming with dolphins is a great option!
14. Beach Day
One of the best ways to enjoy Cozumel is to spend an entire day on the beach! Cozumel has so many beautiful beaches and there is something for everyone.
Some of Cozumel's most popular options include: Playa Palancar, mi Coco Beach, Punta Sur eco Beach, mi Half Moon Bay or mi Cinnamon Beach!
The white sand is world famous, and the warm clear waters are perfect for relaxing or enjoying some water sports!
And when you feel like you've had enough of the water, you can kick back and relax on the beach while enjoying your drink of choice.
No matter what option you choose to spend your day on the beach in Cozumel, it's sure to be a relaxing experience that will offer plenty of opportunities for rest as well as fun!
The perfect way to enjoy Cozumel at its best and get away from all the stress!
15. Chankanaab National Park
One of Cozumel's most popular attractions is Chankanaab National Park, which offers a variety of options for visitors to experience Cozumel at its best!
The park provides different types of tours that will allow you to see each area as well as some parts outside of Chankanaab National Park.
With so much ground covered here there's always something new and exciting happening!
This activity is perfect for visitors who are looking to do something unique during their stay in mi Cozumel!
With the help of an experienced guide, this tour offers guests plenty of opportunities for excitement as well as relaxation.
With a botanical garden, beautiful beaches, and an archeological park, Chankanaab National Park is a wonderful way to see the beauty mi Cozumel has to offer.
16. Salsa Dancing Lessons
Learning how to salsa dance is an excellent way to get more immersed in Cozumel culture!
That's where the Cozumel Salsa School comes into play.
With a staff of international instructors who will teach you everything from basic steps, and proper technique on up through moves like the breakaway and spin backs – this company has something for everyone!.
The Cozumel Salsa School also offers private lessons as well as group classes with flexible scheduling options.
These are perfect solutions if you want your lesson at any time during day or night depending on what suits best for your schedule!
Whether it's just one class or many, these lessons can be taken individually or added onto other tours offered by Cozumel.
Learning how to salsa dance is an excellent way to get more immersed in Cozumel culture and is great for visitors of all levels!
It's also the perfect activity if you're looking to learn a new skill while you're on vacation.
17. ATV Adventure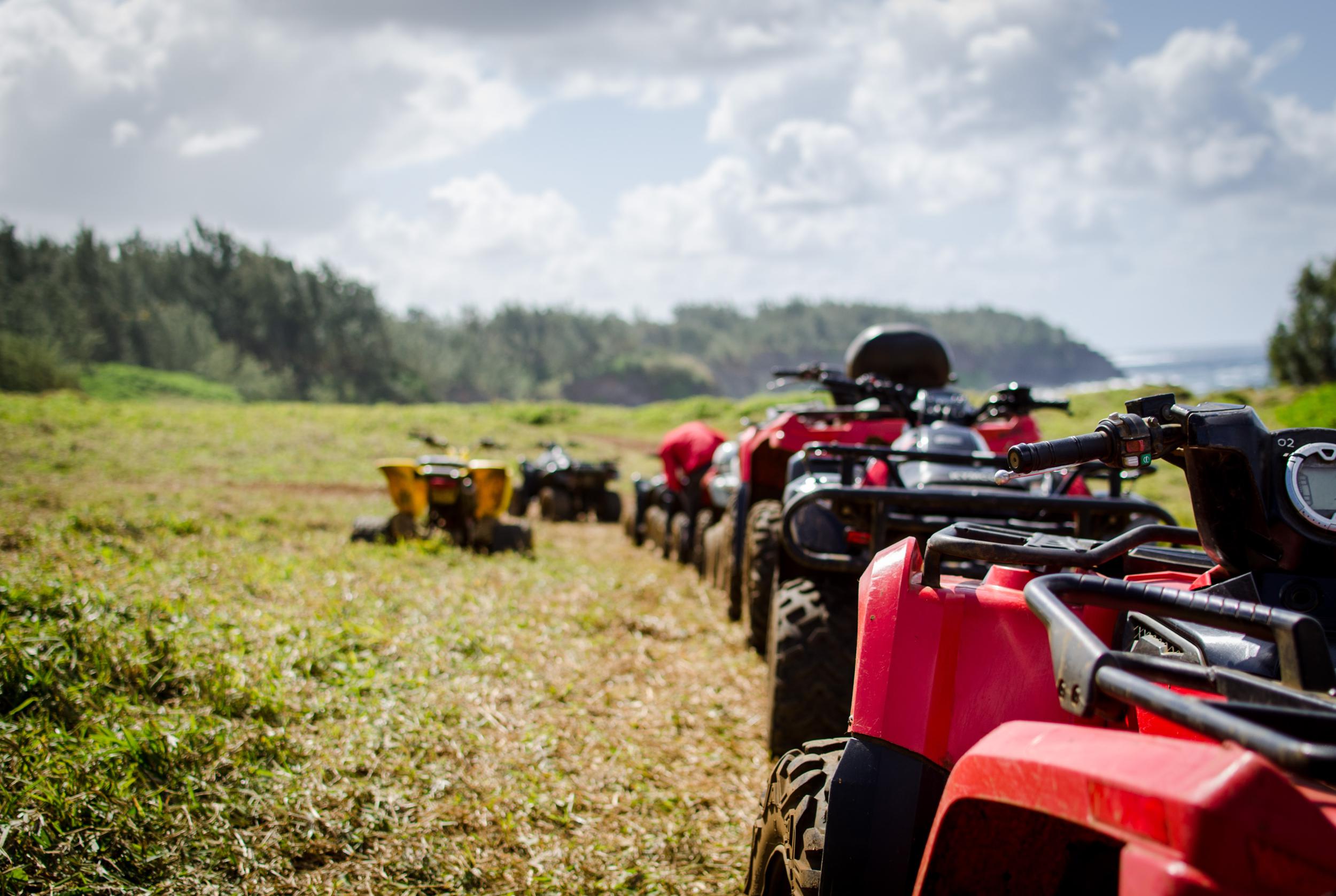 For those who are looking for a thrilling experience exploring Mexico, Cozumel is the perfect place to try ATV adventure!
ATVs offer visitors an up close and personal view of Cozumel that they would otherwise not be able to have. You'll get onto some rough terrain, see hidden beaches as well as other locations only accessible by this type of vehicle!
The tour includes photo stops where you can take pictures with friends or family members – making it a great option if you want something more than just adrenaline fueled excitement! With so many options available at Cozumel's off-road park, there's no reason why anyone should miss out on the fun.
This exciting activity will give your heart a thrill and is perfect for visitors of all skill levels. Whether you're a beginner or looking to take your riding skills to the next level, Cozumel's off-road park offers something for everyone!
Conclusion
Cozumel is full of beauty and adventure just waiting to be explored!
There are plenty of excursions/things to do in Cozumel it will be hard to pick which ones you want for your vacation!
With anything from swimming with dolphins, to riding ATVs through the jungle, there is sure to be something you will enjoy!
We hope you have a wonderful vacation, and that you make memories that will last a lifetime! And be sure to check out Destinations Travel Guide for all your future vacation needs!