There is no better way to spend time with your family than spending your family vacation at one of America's beautiful national parks.
The best part about the parks, is that they are all open year-round and offer something for everyone!
Whether you're looking for an adventurous hike or you want to take in some history, there is something for everyone.
In this blog post we will discuss eight of the best national parks to visit with kids in 2021!
1. Yellowstone National Park
Yellowstone National Park is definitely one of the best national parks for families. Yellowstone is spread across three states, Wyoming, Montana, and Idaho.
It is very large with plenty of things for the whole family to enjoy.
The entrance fee includes a free audio tour so you can learn more about your surroundings as well!
You will see many waterfalls including the famous Lower Falls. There are also some pretty cool thermal features like Old Faithful Geyser which erupts every hour on the hour.
Your kids will love the Old Faithful Geyser, and will love watching it erupt.
In addition to all this, there are elk, buffalo, bears and wolves roaming all around so you'll be sure not to miss them!
The park has beautiful waters for fishing, or if it's hot outside you can cool off in one of three rivers or lakes.
That would be great way to spend an afternoon by yourself or with friends.
One of the most popular hikes at Yellowstone National Park is the Grand Prismatic Spring.
This is a colorful and unique geothermal pool that feeds into Yellowstone River with many other beautiful springs nearby.
This a great park for families with kids of any age because there is so much to do!
Camping in Yellowstone gives you the opportunity to experience many different animals up close- deer are plentiful here too.
Families can also go horseback riding or canoeing on the rivers that wind through the park.
Kids can also grab an activity booklet at the Visitor Center to help them find the coolest things to do in the park, and learn all about the nature surrounding them.
Yellowstone is beautiful all year round but the best time of year to visit Yellowstone National Park is May through September.
2. Arches and Canyonlands National Park
Arches National Park is a great place to visit with kids because there are so many natural arches in the park – most are super easy to hike to!
Some people call this type of rock formation "nature's sculptures". Arches National Park has over 2000 arches, countless hiking trails, as well as camping and fishing.
For something more adventurous, you might want to try climbing one of these giant sandstone structures – but it would be best not to attempt that by yourself (it's always advised to have an experienced guide!).
Arches has hikes and trials perfect for all ages. You have your choice ranging from more advanced hikes to simple walks even small children could handle.  
Make sure you don't miss the beautiful Delicate Arch hike!
This is one of the most popular hikes in Arches National Park, and you will be rewarded with stunning views at the end with the most breathtaking view of the famous Delicate Arch.
There's no signage on this trail so it would be a good idea to stop by the Visitor Center for directions before heading out.
Arches is located in the small town of Moab, Utah.
When you're not exploring the trails, you can explore Moab's historic downtown area with its quaint shops and restaurants.
One bonus of going to Moab is that Canyonlands is so close!
You could make the most of your family vacation and go to both! Canyonlands is located on the Colorado River in Grand County, Utah.
It includes a variety of dramatic landscapes from sandstone canyons to rugged mountains.
Canyonlands also features breathtaking views you can see from its towering cliff ranges, or high up on horseback.
The park is located near Moab and just south of I-70, west of town.
If your family is already planning on going to Arches make sure you don't miss out on the beauty Canyonlands has to offer while you're there!
The landscapes at these parks are unbeatable – just make sure to bring sunscreen and lots of water!
3. Yosemite National Park
Located in California, Yosemite is a beautiful national park with an incredible range of natural wonders.
With a wide variety of trails to choose from, no matter what your level is (and they're all fairly easy), you'll have the opportunity to see some breathtaking views and get close up with nature.
Children ages three to six can sign up to be a Little Cub, and kids ages seven to thirteen can be Junior Rangers.
These programs provide the kids with activity books to help educate them while also keeping them busy on the trip! And make sure you don't miss out on Yosemite Falls!
Yosemite has plenty of camp sites available, or if you're family doesn't like to rough it, there are plenty of hotels nearby too!
All families can find what they are looking for if they chose to go to Yosemite National Park on their family vacation.
One thing visitors should prepare themselves for are bears – so make sure that food and any other scented items are stored away safely when hiking!
It may sound scary but these animals generally pose little harm unless provoked.
You can also always look out for red flags posted around campgrounds which indicates there has been a bear sighting recently.
4. Zion National Park
This park is perfect for families with a range of activities available.
There are plenty of opportunities to visit the park by car, bike, or on foot so make sure you have adequate time and energy before choosing which way will work best!
For those looking for some adventure during their stay at Zion National Park, there is an awesome canyoneering experience that includes rappelling down steep cliffs and hiking through narrow slot canyons filled with waterfalls and lush greenery.
This activity takes about three hours in total which sounds like just enough time to get out of the midday heat while also giving kids plenty to do without being too tiring!
One of the most popular hikes in Zions National Park is called Angels Landing.
Angels Landing is often referred to as one of the most scenic hikes in all of Zion National Park.
It begins on either side of a steep hill called Walter's Wiggles, and ends at a promontory with views extending from Bryce Canyon to Pine Valley Mountain.
The trail used to be popular for challenging hikers but has recently become more popular with families.
It is a strenuous hike with ropes along the path and steep drop-offs so make sure to bring enough water if you plan on conquering Angels Landing!
Located near Bryce Canyon National Park (another great destination!), this location is worth visiting if you want spectacular, unforgettable views!
5. Shenandoah National Park
This beautiful park is a great destination for any family!
There are beautiful waterfalls that kids will love to explore, a few scenic hiking trails and some of the most iconic mountain ranges in America.
This National Park also offers a Junior Ranger program like some of the other parks we've mentioned. For kids ages seven to twelve they have a 1.5-hour class that teaches all there is to know about the park!
Skyline Drive is 105 miles long and takes you right along the Blue Ridge mountains, offering spectacular views at every turn, and leads you to many amazing hiking trails as well.
You can also enjoy the scenery on horseback or on bikes!
Spring time is a great time to visit Shenandoah National Park, the temperatures will be a little cooler, but the blooming wildflowers and green leaves will be an unforgettable site!
You won't want to miss the beauty Shenandoah has to offer!
Hike through Shenandoah National Park if you want to have an experience unlike anything else!
6. Rocky Mountain National Park
Rocky Mountain National Park is another of our favorite national parks!
The Rocky Mountains are a great place to go if you're looking for something more rugged and wild.
Beautiful, natural terrain is what the Rocky Mountain National Park offers – with breathtaking views at every turn. It's perfect for families looking to do a lot of hiking, with over 300 different hiking trails to choose from!
There is a good mix of hard trails and easy trails. A perfect family hike we would recommend would be the Colorado River Trail.
The whole family could enjoy a nice stroll along the beautiful Colorado River, while also taking in the immense mountains, and beautiful wildlife.
At this park, you'll see all sorts of wildlife including big horn sheep, elk, moose, mountain goats, marmots, and so much more!
The kids will love seeing these beautiful species up close! This is a great family friendly national park that the whole family can enjoy!
7. Theodore Roosevelt National Park
Theodore Roosevelt National Park is located in South Dakota and is the home of one of the largest herds of bison in the world! The herd of around 400 bison roams the Badlands and is quite the site to see!
Bison aren't the only animals you will see however, this national park is home to wild horses, prairie dogs, and elk as well!
Theodore Roosevelt discovered this beautiful park in 1883 and it's the perfect national park for kids to experience what nature was like before settlers arrived.
There is so much history to learn about, and it's a great place for kids to explore and have fun! 
Kids can also join the Badlands Club and earn a badge if they complete all the required activities!
You can make your way around the park in all different ways, however, the most recommended way is on horseback, just like it was discovered.
8.  Acadia National Park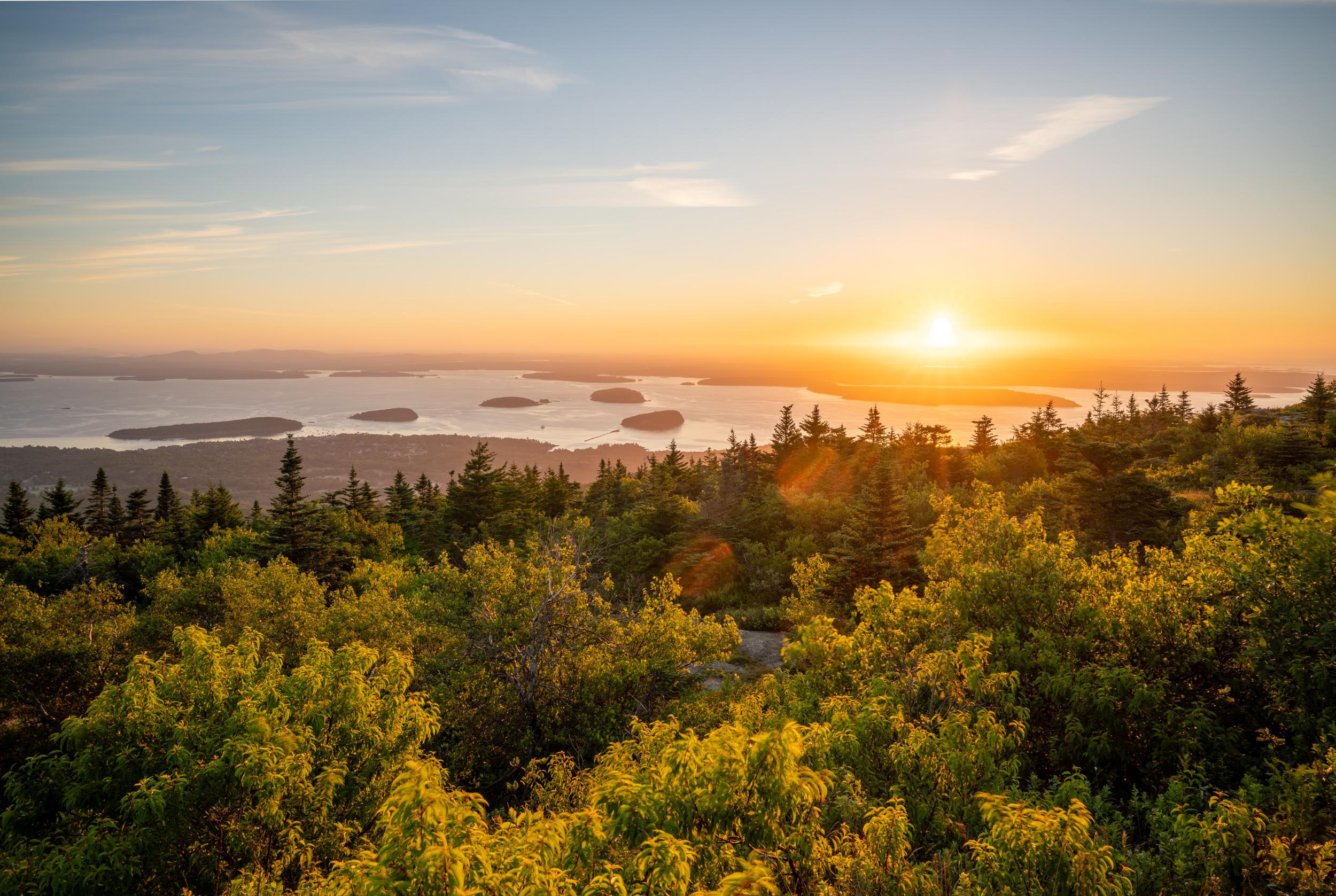 Acadia National Park is home to some of the most breath taking natural beauty found on Earth.
With miles and miles of hiking trails, you can explore Acadia National Park your whole life and still not see it all!
Acadia National Park is also home to one of America's best campgrounds – Seawall Campground.
Kids will love getting close to water and exploring paths that are only accessible by foot or kayak!
There will never be a dull moment in this beautiful park with its incredible scenery as well as plenty of activities for kids just waiting to happen!
Kids may even find themselves spotting whales if they take their time looking out into open waters off the coast line from Otter Point Beach near Bar Harbor Maine.
Many people love to visit Pink Sand Beach too for a little sightseeing and then take the kids back to Schooner Head Overlook where they can do an easy hike.
Acadia also offers a unique family experience you won't find many other places called "Acadia Quest."
You and your family can sign up as a team before your arrival and they will give you activities to complete while you are visiting the park! Acadia is one of the best national parks for families.
It's the perfect place to unplug, and escape the hustle and bustle of life while still getting in some good old fashioned family time.
Looking for other Destinations Travel Guides for a fun adventure!